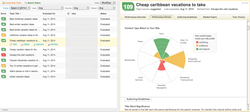 'We have been participating in a pilot with InboundWriter, and the company's new predictive analytics capabilities are truly unprecedented in the digital publishing market.' -- Josh Smith, managing editor at GottaBeMobile.com.
Cleveland, Ohio (PRWEB) September 09, 2014
CONTENT MARKETING WORLD – InboundWriter, the leader in predictive analytics for content, today announced at Content Marketing World, held September 8-11 in Cleveland, Ohio, its next-generation predictive analytics software for content. The software enables users to forecast how their content will perform based solely on an article topic or proposed headline, prior to any content development. It also suggests tightly-related topic alternatives with a higher probability of success for the publishing website, thereby providing simple and powerful guidance on how to craft the content for maximum impact online. InboundWriter has verified the accuracy of its predictive analytics model for content by running more than 20 pilots with enterprise and media organizations in an invite-only beta program. The web traffic and related metrics in the pilots were closely aligned with the software's projections.
"InboundWriter's new predictive capabilities address major pain points for content marketers, digital publishers and agencies in a way that constitutes a significant advancement in removing guesswork and inefficiencies from online content production," said Skip Besthoff, CEO of InboundWriter. "We believe that we've not only answered the question -- Why does most online content not perform? -- but we've also developed a disruptive yet simple solution that removes key unknowns such that online content performs as intended."
InboundWriter Research
Last fall, InboundWriter released research that showed that typically only 20 percent of a site's online content drives 90 percent of its web traffic. Since then, InboundWriter has also confirmed that a similar performance profile applies to new content (created in the past six to 12 months). InboundWriter set out to investigate why such a large percentage of content performs poorly online. In its latest research effort, InboundWriter explored many factors across hundreds of thousands of search queries, categorized millions of web sites producing organic results, and then tested the actual organic traffic data sets of 50+ customer web sites. As a result, InboundWriter found that the interplay of two elements made a dramatic impact on content performance: (1) the domain where content will be published, and (2) the article topic. Furthermore, the analysis showed that a "topic-centric" approach, which takes into account a collection of semantically relevant terms (as compared to individual keywords), proved to be the most prognostic way to organize performance drivers. Topic selection has hence become the focus of the new InboundWriter platform, as it is the way that content producers can most effectively change the trajectory of their content performance.
"Predictive analytics for content is a huge area of opportunity for the content marketing industry," said Scott Abel, renowned content strategist and co-founder of The Intelligent Content Conference series. "Google and other search engines are rapidly evolving in their understanding of semantics to gauge content quality. This means that the traditional, keyword-centric approach to content marketing is becoming insufficient and other content dynamics must be addressed in achieving content marketing success."
InboundWriter Software
In light of InboundWriter's latest research findings, the company has completely revamped its software platform to focus entirely on topic research and ideation. The new web-based application brings unprecedented capabilities to content publishers who are focused on leveraging content to drive website performance, by automating the ability to:

Identify the factors that determine the success of an article before it is written
Forecast expected performance of a given article topic in terms of the web traffic it will drive to a given website
Suggest a menu of related, alternative topics that allow the user to balance editorial goals with expected performance
Provide precise guidance on title and content composition that will maximize impact yet not disrupt the writing process
(For advanced users) Offer sophisticated analytics and data regarding the root cause of projected topic performance, including insights on: reader demand for that content, competitive content, topic uniqueness / cannibalization, optimal content type for the given topic (multi-media, e-commerce, text-based, etc.), and more
While sophisticated algorithms are operating on the back-end, the web application's user interface is very straightforward and intuitive -- a content producer simply enters the topic(s) of interest into InboundWriter and minutes later gets a score on a scale of one to 100 that indicates the topic's ability to perform, along with supporting data and logic behind the score, and also alternative topic suggestions for consideration.
"The goal of the new InboundWriter platform is to bring 'science' to the earliest stages of content planning such that the natural writing workflow and creative process are not disrupted," added Besthoff.
The InboundWriter score and recommendations are most relevant for content developed with the explicit purpose of driving traffic to a website, such as evergreen content (reviews, how-to guides, feature stories, profiles, etc.). When content has another purpose, such as news reporting, communicating a specific message, or taking a stance on an industry issue that is necessary for the brand, the message may be more important than the traffic it generates. However, the software can still help manage expectations and balance trade-offs by providing a data-based forecast regarding how the content is likely to perform, prior to investing significant resources into writing, publishing and promotion.
"We have been participating in a pilot with InboundWriter, and the company's new predictive analytics capabilities are truly unprecedented in the digital publishing market," said Josh Smith, managing editor at GottaBeMobile.com. "In comparing articles that leveraged InboundWriter topic recommendations versus a control group, we have seen a dramatic traffic increase with InboundWriter guided content."
The new InboundWriter platform is replacing the existing version of the software. Pricing is also changing with a focus on enterprises, digital publishers and agencies. More information about updated offerings and pricing is available at http://www.inboundwriter.com. For those at Content Marketing World, please visit InboundWriter at booth #57.
About InboundWriter
InboundWriter develops cloud-based software that removes guesswork and inefficiencies from online content creation. Leveraging web-based data and predictive analytics models, the InboundWriter application can forecast the performance of online content before it is written, offering breakthrough advancements in efficiency and results. The company works with leading enterprises, digital publishers and agencies, with a typical customer experiencing a multi-fold improvement in web traffic and related metrics. For more information, visit http://www.inboundwriter.com, read the blog or follow us on Twitter, Facebook, LinkedIn, and Google+.