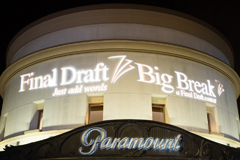 "The goal of the Big Break Contest has always been to propel these winners and finalists into sustainable careers in screenwriting" says CEO Marc Madnick
Calabasas, CA (PRWEB) March 06, 2014
Final Draft, Inc., publisher of Final Draft® 9, the #1-selling screenwriting software in the world, celebrates 15 years of launching screenwriters' careers with the Big Break Screenwriting Contest. Now open for entries, Big Break has expanded to include the Final Draft/New York Film Academy Fellowship in Writing for Film & Television.
Co-sponsored by the New York Film Academy, this unique screenwriting fellowship awarded to 11 feature and TV finalists is designed to raise each writer to a higher level of storytelling craft and provide intensive real-world training in the business of Hollywood. The fellowship begins with a 12-week master class—one for film writers and one for television writers—held on the Burbank campus of the New York Film Academy. Writers will receive individualized instruction and mentoring in their chosen medium, and visiting industry VIPs will provide first-hand, practical insights into the entertainment industry. Out of town winners will be able to participate via virtual classroom.
"The goal of the Big Break Contest has always been to propel these winners and finalists into sustainable careers in screenwriting. The Fellowship is a way for us to work one-on-one with these writers to take their winning scripts to yet another level and to teach them how to market themselves to agents, managers, producers and showrunners. We expect to find even greater success for our finalists than the stellar track record we already have," says Marc Madnick, CEO of Final Draft.
"As educators dedicated to excellence in the narrative arts, the New York Film Academy is proudly committed to helping develop the next generation of storytellers for the ever-evolving mediums of film and television," said Sonny Calderon, Dean of College for New York Film Academy's Los Angeles campus. "It is a great honor to be in partnership with the market-leading professionals at Final Draft software in the co-sponsorship of this unique year-long fellowship, and we look forward to helping new talent blossom."
Jim Jennewein, NYFA Chair of Screenwriting, echoed Calderon's remarks, adding, "Story is at the core of everything we do, and taking screenwriters to the highest levels of storytelling craft is what this fellowship is all about."
The Big Break Contest has an excellent reputation for helping their winners find success in Hollywood. Manager Mitch Solomon of Magnet Management picked up 2010 Big Break third-place winner Larry Brenner for representation. Judge Palak Patel also loved Brenner's script, and his company Roth Films took the film, now known as Bethlehem, to Universal where it will go into production later this year. Four of the 2013 finalists have found representation and one script in the top-30 was recently optioned. Many other winners and finalists have secured representation or gone on to find work as screenwriters based on their success.
Last year the Big Break Contest added awards to the best script in each of the following genres: action/adventure, comedy/rom-com, drama, family/animated, period/historical/war, sci-fi/fantasy, and thriller/horror. In the television category, finalist prizes are awarded to the best half-hour spec, half-hour pilot, hour-long spec, and hour-long pilot. From these finalists, two grand prize winners are chosen. The prizes awarded total to over $80,000, and all winners has his or her script marketed to agents, managers and producers.
Early-bird deadline to enter Big Break is April 30th. Regular deadline is July 15th and extended deadline is July 31st. Both the television and feature grand prize winners will be honored at the Final Draft, Inc. Annual Awards in February, 2015 where they will join the best working screenwriters of the year at the Screenwriters Choice Awards.

About the Final Draft, Inc. Big Break International Screenwriting Contest -
Now in its 15th year, the Big Break Screenwriting Contest has become one of the most renowned competitions because of its generous payout and previous winners' successes. The goal of the Final Draft, Inc. Big Break contest is to spotlight the undiscovered talent of exceptional aspiring screenwriters. Winners and finalists are awarded over $80,000 in cash and prizes plus a fellowship and meetings with industry professionals. For more information, visit: http://store.finaldraft.com/big-break-contest.html.
Final Draft, Inc. has published Final Draft® software – the number-one selling screenwriting application in the world – for over 20 years. Final Draft software automatically paginates and formats your script to industry standards allowing writers to focus on what they do best – scripting stories. Used by industry giants, like J.J. Abrams, James Cameron, Aaron Sorkin, and more, Final Draft software has become the professional's choice and the entertainment industry standard. In addition to its flagship software product, Final Draft, Inc. offers other services for writers, like the Big Break Contest – a screenwriting contest that launches careers and awards over $80,000 in cash and prizes, and professional script coverage with its ScriptXpert services. In 2012, Final Draft, Inc. launched Final Draft Mobile™; a division focused on bringing screenwriting tools to mobile devices. The Final Draft Reader® and Final Draft Writer® apps for iPad are the first in a series of mobile apps to be brought to market. To learn more about Final Draft, Inc. and its products and services, visit: http://www.finaldraft.com.