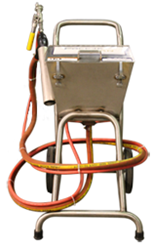 Decatur, IL (PRWEB) September 10, 2013
Continental Carbonic Products, Inc., the country's largest privately held dry ice manufacturer and distributor, will feature dry ice blasting products at the IBIE Show in Las Vegas this October 6-9.
Continental Carbonic has implemented dry ice blasting in several top commercial bakeries. Since dry ice blasting is a waterless cleaning method, no moisture is introduced to the production area. Cleaning with dry ice blasting reduces current bacteria counts, including Salmonella, E.Coli, and Listeria. Dry ice blasting also streamlines the cleaning process and reduces labor costs. In bakeries, dry ice blasting can be used to clean production equipment such as bakery molds, conveyors, mixers, ovens, slicers, and more.
Dry ice blasting is a cleaning process where dry ice pellets are accelerated through a dry ice blasting machine to clean a variety of surfaces. Dry ice blasting is also a "green" process as the carbon dioxide sublimates (or turns from solid directly to gas) during the cleaning process. The carbon dioxide gas is absorbed by trees and plants and converted into carbon and oxygen.
To make an appointment to see Continental Carbonic representatives at IBIE 2013, send us an email at marketing(at)continentalcarbonic(dot)com or visit us at http://www.continentalcarbonic.com/baking-food-processing.html. At the IBIE show, visit the company at booth #1470, October 6-9, 2013 in Las Vegas, Nevada.
About Continental Carbonic:
Continental Carbonic specializes in the manufacture and distribution of dry ice (solid carbon dioxide) and liquid carbon dioxide. Along with sales and rental of dry ice blasting equipment, we service customers throughout the eastern two-thirds of the United States, and Ontario, Canada through our strategic network of 39 dry ice manufacturing and distribution facilities. For more information, visit http://www.continentalcarbonic.com or call 1-800-DRY-ICE2.