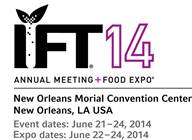 Decatur, IL (PRWEB) May 19, 2014
Continental Carbonic Products, Inc., a dry ice manufacturer and distributor, will feature dry ice blasting products at the Institute of Food Technology (IFT) Show in New Orleans this June 22-24, 2014. Continental Carbonic will be included among the world's most prominent food science and technology professionals represented at this Annual Meeting.
Continental Carbonic has implemented dry ice blasting in several top food processing facilities as an alternative cleaning method that prevents moisture from being used in production areas. Cleaning with dry ice blasting reduces current bacteria counts, including Salmonella, E.Coli and Listeria while streamlining the cleaning process and reducing labor costs. In food processing facilities, dry ice blasting can be used to clean production equipment such as Ishida weighers and baggers, mixers, conveyors, packaging machines, slicers and more. Continental Carbonic will highlight the dry ice cleaning process in which dry ice pellets are accelerated through a pressured air stream via a dry ice blasting machine to clean a variety of surfaces. Dry ice blasting is a "green" process since the carbon dioxide sublimates (or turns from solid directly to gas) during the cleaning process.
To make an appointment to see Continental Carbonic representatives at IFT 2014, send an email to marketing(at)continentalcarbonic(dot)com or visit us at http://www.continentalcarbonic.com/baking-food-processing.html to add us to your Expo Plan. At the IFT show, visit the company at booth #3456, June 22-24, 2014 in New Orleans, LA.
About Continental Carbonic:
Continental Carbonic specializes in the manufacture and distribution of dry ice (solid carbon dioxide) and liquid carbon dioxide along with sales and rental of dry ice blasting equipment. We service customers throughout the eastern two-thirds of the United States, and Ontario, Canada through our strategic network of 39 dry ice manufacturing and distribution facilities. For more information, visit http://www.continentalcarbonic.com or call 1-800-DRY-ICE2.