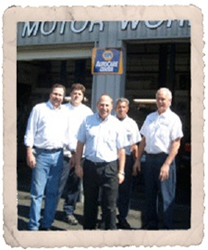 San Luis Obispo, CA (PRWEB) March 20, 2014
Continental Motor Works has always worked very hard to ensure customer satisfaction, often going above and beyond in the service of their customers. As a result, the company is often inundated with exceptional reviews and recommendations from their customers after visiting the shop for service. The owner of Continental Motor Works, Jeff Spevack, downplayed the overwhelmingly positive reviews, noting that customers should always have a positive experience with any business they visit.
"While it is very satisfying to know that our customers appreciate the work that we do and the way we do business, we have a very high standard for the service that we provide each and every day." said Spevack. "We are very thankful and appreciative of our customers, but we do not feel that we go 'above and beyond.' We simply provide the level of service that the SLO community deserves."
Spevack noted the importance of using a San Luis Obispo mechanic that is an ASE Certified Master Technician, emphasizing that SLO residents are very savvy and demand experience and knowledge from their mechanics. While Continental Motor Works has certainly developed a reputation throughout the San Luis Obispo area for their mechanics' exceptional knowledge and experience, many of the company's customer reviews focus on customer service.
"As a San Luis Obispo mechanic, I have always emphasized the importance of honesty and integrity in everything that I do," said Spevack. "As the owner of Continental Motor Works, I have done my best to instill these values in my employees. This ensures that all of our customers are treated fairly and that they receive the best service possible."
Many of the reviews, which are posted on Continental Motor Works' website along with other independent review sites, make mention of the timely fashion in which the mechanics often work. In addition to expediency, the reviews also mention that the company clearly values their customers.
"We absolutely value our customers, and we make every effort to show our customers just how much we appreciate them," said Spevack. "This community has been so great to this company, it is only right that we show our appreciation through the care and the service that we offer."