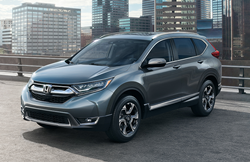 COUNTRYSIDE, Ill. (PRWEB) April 24, 2019
For many drivers, figuring out which brand and vehicle is the best choice for them is just the beginning of the car-shopping process. From there, shoppers need to decide which version of their desired vehicle is the best choice for their needs and their budget. To help its customers figure out which vehicle is right for them, Continental Honda, a Chicago-area dealership located in Countryside, Illinois, recently published a trim comparison for one of its most popular new Honda models, the 2019 Honda CR-V.
In its 2019 Honda CR-V trim comparison, Continental Honda examined each of the four trims available for the CR-V SUV. The online comparison page highlighted the different features that are available with each trim level, as well as their starting Manufacturer's Suggested Retail Prices (MSRPs). Dealership staff hopes that by making this information accessible to shoppers online, it can assist customers in deciding which model they're interested in before even setting foot on the dealer's lot.
Those interested in viewing this trim comparison for the Honda CR-V, as well as others like it, should visit the Continental Honda website at http://www.continentalhonda.com. Additional information on the 2019 Honda CR-V can be found in the dealership's model research library as well on the Continental Honda Blog.
Customers with questions or inquiries are encouraged to reach out to dealership staff through the Continental Honda website, by calling 708-340-6350 or by visiting the dealer's location at 5901 S. La Grange Road.