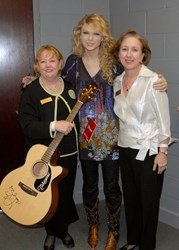 Rocky Mount, NC (PRWEB) September 20, 2013
Edgecombe Community College is raffling off memorabilia from Taylor Swift's performance at the school back in 2008. Among the autographed items to be raffled off are a guitar, CD, photo and showbill booklet.
Forbes recently named Swift to its list of most influential celebrities, ranking her just behind Madonna, Beyonce, and Steven Spielberg. She's a six-time Grammy winner, and she's the youngest ever to win a Grammy for Album of the Year. But just six years ago, Swift was booking small venues for concerts in places like Allentown, Pa., Bethel, N.Y., and Tarboro, N.C., still hawking her songs to radio stations throughout the country.
By the time she performed at Edgecombe Community College in February 2008 though, Swift's star ticket was punched. Just a few months earlier, she won the Country Music Association's Horizon Award for Best New Artist, and record sales skyrocketed.
"She had a couple of hits, and she was starting to get some attention when we booked her," says Eric Greene, the college's cultural arts director. "But then her celebrity rose very quickly. It was a great show, and we actually sold some seats over capacity."
Swift is one of two performers who has played sold-out shows at the college's Keihin Auditorium. The other was B.B. King in 2004. Edgecombe Community College is celebrating that honor by raffling an assortment of Swift memorabilia, including a guitar signed by Swift when she was in Tarboro in 2008. The proceeds will go to the ECC Foundation to benefit students.
"This is for scholarships," says Karen Andrus, the foundation's executive director. "Our goal is to raise $75,000 this year for scholarships for students in need."
The raffle package includes:

Takamine 523SC acoustic guitar autographed by Swift
Deluxe hardshell case
Autographed "Taylor Swift" CD (2006)
Autographed photo of Swift
Photo of Swift autographing the guitar backstage at Keihin Auditorium
Photo of Swift posing with the guitar; and
Autographed Edgecombe Performance Series showbill booklet from the concert
The foundation is selling 200 raffle tickets at $100 each. There is no time limit on sales, Andrus says, and after the last ticket is sold, the drawing will take place.
In addition to student scholarships, the foundation also provides grants to faculty and staff, awards for instructors, emergency funds for students, and assists with some capital projects. In the past decade, the foundation has raised nearly $1 million and awarded about 1,000 scholarships.
To purchase raffle tickets, email Andrus at andrusk(at)edgecombe(dot)edu or call her at (252) 823-5166, ext. 212. The ECC Foundation accepts cash, check, Visa, or MasterCard.
About Edgecombe:
Steady growth and expanding impact have characterized Edgecombe Community College as it has evolved from one small building in 1968 into a multi-campus institution with campuses in Tarboro and Rocky Mount, North Carolina. The college helped meet the educational and training needs of about 13,000 individuals in our community last year. This included the implementation of distance learning and online courses to reach students with travel and time barriers. Throughout, their strength is and will remain putting the needs of students first. Visit their website today for more information: http://www.edgecombe.edu.