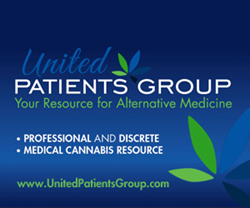 We are taking the medical-cannabis movement to a level that can't be denied: unbiased and science-based medical education
San Francisco, CA (PRWEB) December 11, 2014
United Patients Group, a trusted online resource known for its commitment to the highest level of patient care, is now offering online courses on a number of medical-cannabis-related topics. These courses are also certified for continuing education units (CEUs) for those needing CEU hours. The courses are offered in partnership with The Medical Cannabis Institute (TMCI), powered by Scitent, a leader in online medical education. Topics include cancer / oncology, cardiovascular health, the endocannabinoid system, neurologic disorders, pain and palliative care, and psychiatry / mental health.
"We are thrilled to offer these deeply informative courses on medical cannabis," exclaims John Malanca, founder of United Patients Group. "We are taking the medical-cannabis movement to a level that can't be denied: unbiased and science-based medical education."
The list of course titles includes:

Cannabinoids and Neuropathic Pain
Cannabinoids: Tackling the Cardiovascular Problems
Cannabis in the Management of Neuromuscular Disorders
Cannabis Therapeutics in Hospice and Palliative Care
Clinical Applications of Cannabis in Cancer Patients
Endocannabinoids in the Circulation and Psychopathology
Is Your Patient Impaired by Cannabis?
New Target Receptors for Cannabinoids: GPR55 and GPR18
Potential Therapeutic Benefits of Cannabidiol for Cancer Patients
The Role of the Clinician: Helping Patients Optimize Their Therapeutic Relationship with Cannabis
United Patients Group urges medical professionals to sign up for these courses to educate themselves on the newest and most viable cannabis treatments and how to properly administer them.
"Take this opportunity to learn about cannabinoid medicine—you could save patients' lives with your new knowledge," says Malanca.
Policymakers and their staff members will also benefit tremendously from the information contained in the courses, and can use it to shape future cannabis policy. Many of the lawmakers in local, state, and federal elected office—and lawmakers in other countries—know very little about medical cannabis, relying instead on old stereotypes about marijuana users when creating policy.
This has had devastating consequences for people treating ailments with medical cannabis in places where it's still illegal—forcing them to turn to the dangerous black market, resulting in senseless arrests, and even ripping families apart and forcing children into foster care.
"If you are a legislator or work for a legislator, I urge you to get the facts about cannabis before deciding how to regulate it," states Malanca. "These courses will give you an in-depth understanding of how medical cannabis works, which groups of people benefit from it, and why current laws need to be changed."
For more information about how cannabinoids work, go to http://www.UnitedPatientsGroup.com.
About United Patients Group:
United Patients Group is a discreet, safe, and professional online medical cannabis information resource for prospective and current patients, caregivers, and medicinal cannabis industry professionals.
While most online medical cannabis sites cater to patients already familiar with medical marijuana, the UnitedPatientsGroup.com website is a comprehensive and easy-to-use information source for people of all ages and experience levels, from novice users to experienced industry professionals. The site's News, Resource, and Blog pages introduce new patients to the ins and outs of medical marijuana healthcare, while helping experienced providers stay abreast of the latest developments in THC and CBD therapies.
A complimentary five-star-rated United Patients Group medical marijuana app is available on the iTunes app store for iPhone 3GS, iPhone 4, iPhone 4S, iPhone 5, iPod touch (3rd generation), iPod touch (4th generation), and any iPad.