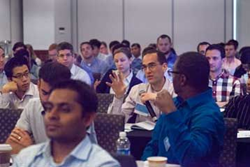 The free on-demand webinars are for chemists and chemical engineers in the pharmaceutical and chemical industries as well as academia
(PRWEB) January 04, 2017
METTLER TOLEDO has announced the availability of 2 new on-demand continuous flow chemistry webinars, featuring speakers from Snapdragon and Nalas Engineering.
Using pharmaceutical industry case studies, the new on-demand webinars focus on continuous flow chemistry. The presentations feature 2 industry experts with backgrounds in academia as well as the pharmaceutical and chemical industries addressing how flow chemistry combined with in situ reaction analysis expedites development of robust chemical processes.
Jerry Salan of Nalas Engineering and formerly of Pfizer presents "Accelerated Process Development Using an Advanced Flow Reactor." Eric Fang of Snapdragon and formerly of Amgen presents "Development of Continuous Flow Chemistry Using PAT Analyses."
The free on-demand webinars are for chemists and chemical engineers in the pharmaceutical and chemical industries as well as academia. There is no fee to view.
About METTLER TOLEDO
METTLER TOLEDO provides Process Analytical Technology (PAT), automated synthesis reactors, and in situ sampling. In situ FTIR spectroscopy and automated sampling provides continuous analysis of reactions. Inline particle analysis enables crystallization development with continuous particle size measurements. Automated reactors and reaction calorimetry provides process knowledge to eliminate scale-up and safety incidents.