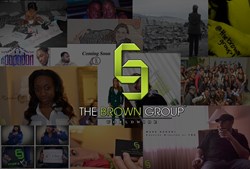 We began developing the project early, to work out possible kinks and define the positions to better assist candidates
Boston, MA (PRWEB) January 28, 2014
PR and marketing management firm, The Brown Group Worldwide announced the launch of its 2014 Contracting Initiative. The initiative spearheads the company's personnel growth agenda that developed in June 2013 during the company's informational session in Boston. Details of the initiative, released on the company's website, announced that The Brown Group Worldwide is looking to offer positions of consultants in the fields of Public Relations, Marketing, Event-Planning, and Graphic Design. The positions are open to New England residents during the initial launch of the initiative.
"We began developing the project early, to work out possible kinks and define the positions to better assist candidates." Jovan Toussiant said, who has also announced he will be the head of training operations within the company. The Brown Group Worldwide has developed a complete training schedule that will prepare the new consultants and specialize their skills in marketing, public relations, event-planning, and media relations in support of this Contracting Initiative.
Alongside the positions available in each department, the company has released a list of skills that help complement the positions to include graphic designs and media relations, which will contribute to the development of the media departments growth to a division in the Fall of 2014. The company adds that the department will also seek to contract multiple support positions within the media relations department to support the transition.
The Brown Group Worldwide is a public relations and marketing management firm in Massachusetts that offers services in the fields of public relations, brand & image marketing, talent & project management, and business consultation. The Brown Group Worldwide creates and maintains the effects of public exposure, marketing campaigns, and project operations in support of individual and business agendas. With a energetic and available staff, The Brown Group Worldwide is capable of representing clients in their various business-related missions for the accomplishments of their professional goals.