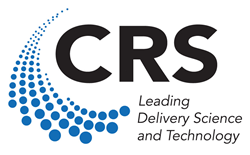 The Call for Abstracts is organized around 10 core areas that represent the wide diversity of scientific and technical expertise in the delivery science arena.
St. Paul, Minnesota (PRWEB) December 02, 2014
The Controlled Release Society (CRS) has officially opened its Call for Abstracts for the 42nd Annual Meeting & Exposition in Edinburgh, Scotland, 26-29 July 2015. The Edinburgh International Conference Centre will form an ultra-modern backdrop that's especially fitting for this international gathering of cutting-edge researchers, industry innovators, and government experts.
"This year's Call for Abstracts is organized around 10 core areas that represent the wide diversity of scientific and technical expertise in the delivery science arena," says Justin Hanes, Director of the Center for Nanomedicine, Johns Hopkins University, U.S.A. and chair of the CRS Annual Meeting Program Committee (AMPC). "This new approach to organizing annual meeting content is designed to produce a balanced program while allowing greater flexibility in the creation of meeting content that reflects CRS member interests."
Complete descriptions of these 10 core areas, and a link to the online abstract submission portal, can be found on the CRS website:

Delivery of Proteins, Peptides, and Vaccines
Delivery Science in Cosmetics, Personal Care, and Household Products
Encapsulation for Industrial Applications
Manufacture, Characterization, Measurement, and Stability
Micro- and Nanoparticle Delivery
Oral Delivery for Food and Pharma
Parenteral Controlled Release
Regional Delivery
RNA and DNA Delivery
Topical and Transdermal Delivery
The AMPC will build a complete technical program around 20 scientific sessions, each offering a blend of seven speakers from industry and academia that will be moderated by a CRS Fellow or society leader. Sessions will conclude with a Q&A session that involves the full panel of speakers. Hundreds more abstracts will be approved for poster presentations and the five mini symposia.
Three plenary session presentation titles and speakers have been named to date: "Polymers and Nanomedicines–The Promises and Pitfalls of New Materials," with Cameron Alexander, School of Pharmacy, University of Nottingham, United Kingdom; "Global Efforts and Successes in Needle-Free Peptide Delivery," María José Alonso, University of Santiago de Compostela, Spain, and coordinator of the TRANS-INT European consortium; and "Ligand-Directed Therapy and Molecular Imaging Based on In Vivo Phage Display Technology," with Renata Pasqualini, University of New Mexico Cancer Center, U.S.A.
Industry participation plays an essential role in the success of this meeting, from the exposition, Technology Forums and Soapbox Sessions to valued sponsorship of networking events, awards and more. "CRS is re-invigorating its annual meeting programming to include more industry participation," says CRS Executive Director Susan Kohn. "This will allow all attendees to meet key contacts and initiate solutions-focused partnerships both on the exhibit floor, in scientific sessions, and during networking events." Descriptions of the industry marketing opportunities and contracts are available on the CRS website. For more information, please contact Rhonda Wilkie at rwilkie(at)scisoc(dot)org or telephone +1.651.994.3820.
About the Controlled Release Society
The Controlled Release Society is dedicated to bringing multidisciplinary professionals from industry, government and academia together to create the future of delivery science and technology. CRS members from 55 countries network with scientific leaders, investors, regulators and business development professionals focused on drug delivery as well as delivery applications in consumer and diversified products and animal health. Scientific books, journals and the society newsletter showcase fundamental research and development at the forefront of this rapidly expanding field. The CRS annual meeting draws nearly 1,500 individuals from 45 countries eager to explore exciting breakthroughs and strengthen business relationships. Learn more at controlledreleasesociety.org.