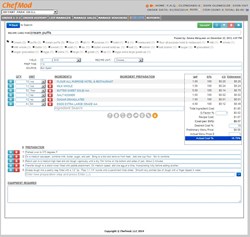 Combining customer's purchasing strength with a simple to use recipe management tool was a logical next step for us.
New York, New York (PRWEB) January 06, 2014
ChefMod, LLC, the leader in full service restaurant purchasing services, this week announced EZRecipe, a fully functional cloud based recipe management tool which integrates seamlessly with their purchasing process.
In order to connect purchasing data from multiple supply sources, for years business owners and chefs relied on a paper based purchasing systems and spreadsheet solutions to scrutinize recipe costs, only to repeat the process several months later when food prices had changed. Users of EZRecipe no longer have to cull through hundreds of food service invoices to find their last cost for items they purchase. EZRecipe with Live-Link securely captures real time purchasing data and provides up to the minute recipe costs at the touch of a button.
"Independent restaurant owners who are looking to reduce the growing expense of labor and cost of ownership in their purchasing process are turning to cloud based solutions with an expert service component," stated John Oldweiler, ChefMod founder and President. "Combining customer's purchasing strength with a simple to use recipe management tool was a logical next step for us. We are proud and very excited to be at the beginning of this great frontier of bringing this much needed technology to the industry."
About ChefMod, LLC
Established in October of 2005, ChefMod LLC is a subsidiary of Ark Restaurants Corp, whose partners include industry expert John Oldweiler and foodservice technical pioneer Eduard Spivak. ChefMod is the only full service restaurant purchasing service in the United States which leverages the combined spending of its members to maintain an efficient cloud-based solution with superior account management.
Partly owned by Ark Restaurants, founded in 1983, ChefMod members enjoy the purchasing clout of multiple restaurants, bars, fast food concepts and catering operations which Ark Restaurants owns and operates as well as over 200 independently owned businesses in New York, New Jersey and Connecticut.
ChefMod's unique offering provides a customized, professional solution for foodservice clients as well as for their supply sources. With over two decades of experience, ChefMod has proven that restaurants, bars, culinary institutes, private clubs and quick-service establishments can manage their purchasing process faster and more efficiently using its solution. For more information visit their website at http://www.chefmod.com, or email John Oldweiler at John (at) ChefMod (dot) com.