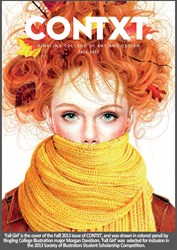 We are advancing the forward edge of publishing through the cooperative efforts of our Design Center and Ringling students.
Sarasota, FL (PRWEB) November 20, 2013
Ringling College of Art and Design today announced that the Fall 2013 issue of CONTXT™ Magazine has published and is available via iTunes as a media-rich free iPad application, and through Ringling as a PDF or glossy print publication. The iPad edition is highly interactive and content-rich with stunning imagery, interviews, video and links.
After a redesign and name change from Ringling College's previous award-winning print magazine (Perspectives), CONTXT™ was first published in the spring of 2013 and has been named a finalist in the Digital Magazine Awards for 'Launch of the Year (New Title)' and 'Visual Arts Magazine of the Year'. The winners will be announced on November 26th.
CONTXT™ is published biannually and focuses on the culture and convergence of art and design through visually rich artwork and intriguing profiles on students, alumni, faculty and visiting artist and creatives. The image on the cover of Fall 2013 issue of CONTXT, "Fall Girl," was drawn in colored pencil by Ringling senior Illustration major Morgan Davidson. The piece was selected for inclusion in the 2013 Society of Illustrators Student Scholarship Competition. More of Morgan's work is featured on pages 24 – 27 of CONTXT Fall 2013.
"We are advancing the forward edge of publishing through the cooperative efforts of our Design Center and Ringling students and are extremely gratified to have CONTXT chosen as a finalist in two categories for the Digital Magazine Awards," said Ringling College president Dr. Larry R. Thompson. "To fully enjoy the CONTXT experience I recommend users download the iPad application, but if you happen to prefer the look and feel of the glossy magazine format CONTXT is available upon request in print format."
The print and iPad versions of CONTXT are created in-house by Ringling College's Design Center. Under the guidance of Design Center director Jennifer Mumford Brady, the new issue was created by Cody Maple and junior Graphic Design major, Russell Mank. Design Center videographer Joe Granato assists with all video content and the Ringling College IT department provides essential support.
Links to access CONTXT follow:
Download CONTXT on iTunes: https://itunes.apple.com/us/app/contxt-magazine/id638301808?mt=8.
Request print version of CONTXT: email contxt(at)ringling(dot)edu.
About Ringling College of Art and Design
Ringling College of Art and Design is a private, not-for-profit, fully accredited college offering the Bachelor's degree in 14 disciplines: Advertising Design, Business of Art & Design, Computer Animation, Digital Filmmaking, Fine Arts, Game Art & Design, Graphic Design, Illustration, Interior Design, Motion Design, Painting, Photography & Digital Imaging, Printmaking, and Sculpture. Located in Sarasota on Florida's Gulf Coast, the picturesque 48-acre campus now includes more than 110 buildings, and enrolls nearly 1,300 students. It is recognized as being among the best and most innovative visual arts colleges in the United States as well as a leader in the use of technology in the arts. Please visit http://www.ringling.edu for more information.