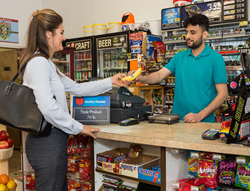 Two-thirds of all shoppers surveyed feel there are now more healthy items to choose from.
(PRWEB) July 10, 2017
On any given day, more than 150,000 convenience stores across the United States conduct more than 171 million transactions, 74 percent of which are in-store purchases. What customers are purchasing – with increasing regularity – are healthy snacks, fresh produce, and freshly prepared meals to eat on the go. Produce sales at U.S. convenience stores have improved by double-digit percentages for each of the past several years. More than likely, however, they will need to increase at an even faster rate to keep up with demand – especially from women and millennials – for nutritious, portable, and affordable menu items available at any hour of the day or night.
Fortunately, a variety of weighing technologies provide C-store retailers with options for determining and implementing the fresh food programs that will serve them best. For example, if freshly prepared meals and side dishes represent a retailer's best opportunity for business growth, a backroom food prep scale with weigh/price/label capability may make the most sense. For other retailers, a customer self-serve label-printing scale offers shoppers complete control in determining the exact portion size and ingredients they prefer – for salads, dried fruit and nuts, bulk items, and so on. Still other retailers can opt for a high-speed, technologically advanced checkout scale with a built-in barcode reader to keep the checkout line moving quickly while maximizing profit and managing inventory.
Consumer attitudes toward convenience stores are changing: two-thirds of all shoppers surveyed – and three-fourths of millennials – feel there are now more healthy items to choose from. While retailers are clearly responding to changing demands, they have thus far only experienced the tip of the proverbial iceberg. For those retailers who wish to see a lot more 'green,' the key may simply be to get more fresh.
To learn more about METTLER TOLEDO convenience store solutions, please visit: http://www.mt.com/cstores.
About METTLER TOLEDO
METTLER TOLEDO is a leading international manufacturer of precision measuring instruments. The company is the world's largest manufacturer and supplier of weighing systems for laboratories, industry and food retail.
METTLER TOLEDO is one of the three leading suppliers of various complementary measuring technologies and a leading supplier of automated pharmaceutical research and ingredient development systems. Moreover, the company is the world's biggest manufacturer and supplier of metal recognition systems for the production and packaging industry. Further information on METTLER TOLEDO Retail can be found at: http://www.mt.com/retail.