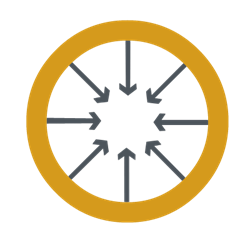 Small businesses manage every single aspect of their sales, marketing, and customer success processes. ConvergeHub with SkyDesktop lightens that load and helps small businesses convert leads and create lasting customer relationships.
San Francisco, CA (PRWEB) September 20, 2016
ConvergeHub, #1 easiest converged CRM for SMBs, today announced its partnership with InfoStreet Inc, a leading name in providing affordable and best-in class cloud solutions to small businesses. It has two flagship products called SkyDesktop, a cloud desktop and SkyAppMarket, SkyDesktop's cloud app marketplace.
Both ConvergeHub and InfoStreet work towards a common goal - betterment and strengthening of small businesses. So while InfoStreet's SkyDesktop allows small businesses to access, manage, and use most crucial apps in one place; ConvergeHub's CRM empowers small and medium businesses to manage their entire sales, marketing, support and billing needs, within a unified, full-featured and easy-to-use platform.
Partnership with InfoStreet brings ConvergeHub CRM to the SkyAppMarket with a 30-day free trial. SkyDesktop users can choose from three different CRM editions called Lite, Professional and Premium as per their business requirements.
This expands the efficiency of SkyDesktop and brings ConvergeHub CRM's benefit to thousands of small businesses across the globe. They can use ConvergeHub CRM from within the in-browser cloud app platform to generate leads, drive sales and build customer loyalty.
Manash Chaudhuri, CEO of ConvergeHub states - "Small businesses have enough on their plate with managing every single aspect of their sales, marketing, and customer success processes. Our goal, with the help of SkyDesktop, is to lighten that load through automation and to help businesses convert leads and create lasting relationships."
ConvergeHub includes Sales Force Automation, Marketing Automation, Email Marketing, Customer Support, Collaboration, Document Management, Project Management, Invoicing and Reports & Analytics. Right from running multi-channel marketing campaigns, tracking sales activity, sharing documents to resolving customer cases and automating daily tasks - small businesses can do all this from within ConvergeHub CRM.
Having one converged CRM platform to manage all customer-facing business functions empowers small businesses to achieve a comprehensive view of their customers and deliver a consistent and coherent experience through every stage of customers' lifecycle.
Siamak Farah, CEO of InfoStreet quotes the same - "Small businesses face multiple challenges in each phase of their sales and marketing processes, and the ability to see the big picture with all the pieces in place is rather elusive. With SkyDesktop and ConvergeHub, we now have a solution that makes it easy to remain focused throughout the lifecycle of a customer."
Learn more on the compelling benefits of ConvergeHub and SkyDesktop, in ConvergeHub Blog section.
About ConvergeHub
ConvergeHub is a powerful all-in-one cloud CRM software that combines Sales, Marketing, Customer Service and Collaboration in one unified platform which enables businesses to attract more prospects, win more deals and build stronger customer relationships. It is fully-featured and no expensive add-ons are needed. It includes some of the most powerful capabilities to automate work, stay on top of customers and generate higher revenue.
ConvergeHub is perfect for small to medium sized businesses that have the same software needs as the large enterprises but don't have the budget to spend on multiple applications and their integrations.
For more information, attend ConvergeHub webinars or schedule a live one-on-one demo.