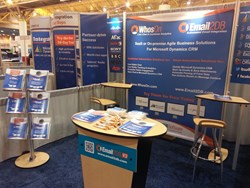 WhosOn are looking forward to attending Convergence 2014. It provides alternative opportunities for our business to develop.
(PRWEB) February 17, 2014
Parker Software have booked their stand at the biggest Microsoft Dynamics event of the year, Convergence 2014, taking place March 4th – 7th at the Georgia World Congress Centre in Atlanta. Attendees from Parker Software are looking forward to a chance to make key business connections and display how WhosOn Live Chat integrates with Microsoft Dynamics.
The agenda this year is set to differ from previous years as Microsoft promises to make the event even more exciting an informative for the 12,000 people who attend. The four day event is packed full of experiences, from learning how to improve a business with new innovative technologies to celebrating with world class musicians, FUN. It gives the chance to see how other customers and specialists are using Dynamics and discover what's included in planned upcoming releases.
Listen and learn from keynote speakers such as Biz Stone, named one of the Most Influential People in The World by TIME magazine, best known for over ten years of developing collaborative web systems freely accessed by hundreds of millions of people worldwide and co-founding Twitter in 2006.
The Parker Software team will be at stand 2446, showcasing demos of their award winning Live Chat and Tracking Software and discussing the business uses for internal and online opportunities. WhosOn was developed over 10 years ago and works with both on premises and hosted versions of Microsoft CRM. Allowing any online business to track, chat and engage with the site visitors to increase conversions and boost the customer experience.
The integration with Microsoft CRM gives abilities such as; store chat transcripts, send call back requests and to create new leads, contacts or accounts from within the WhosOn Client plus much more. To find out more visit our stand or visit WhosOn to book a free demonstration.
Whether you are attending Convergence 2014 or not you can still keep up to date with event highlights. Follow on Twitter @WhosOn for hourly updates or look out for the daily blog.
You can also see WhosOn at the following events in 2014:
US Events:
TechEd, Houston. May 12th-15th
IRCE, Chicago. June 11th-12th
UK Events:
IRX. 26th-27th March
Kent 2020. 14th May