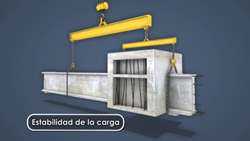 The plan moving forward is to continue to complete translations of our existing course catalog, and to extend conversions to additional languages as we begin to reach our production goals
Vancouver, WA (PRWEB) January 30, 2014
Convergence Training, a leading provider of eLearning media and training management software, today announced plans for a major translation and localization initiative designed to extend its catalog of computer-based health, safety, and industrial skills training to international markets.
A primary round of translations has recently been completed, and some of Convergence Training's most popular English language courses, including Machine Guarding, Lockout Tagout, and Forklift Safety, are now available in Spanish, Chinese and German.
"The plan moving forward is to continue to complete translations of our existing course catalog, and to extend conversions to additional languages as we begin to reach our production goals", says Randy Kohltfarber, President of Convergence Training.
Convergence has experienced steadily increasing interest in basic industrial skills and safety training from international manufacturers. Manufacturing facilities are being rapidly constructed in new and emerging international markets, and most of these new facilities face acute training and education-related challenges, such as the need to establish an adequately trained local workforce. Because many facilities are constructed in remote locations, it is often difficult to locate and import qualified individuals for in-person training. Lack of a reliable internet connection can also make web-based training impractical.
"There's a tremendous opportunity for international manufacturers to capitalize on increased global demand," says Kohltfarber, "but they have to train up an entire workforce that typically has little to no experience in these new industries. That's precisely the solution our courses were designed to provide – foundational knowledge for workers new to the industry. It doesn't matter if they're in the U.S. or Uruguay."
Convergence courses blend high-quality 3D models with motion graphics to illustrate concepts that are often difficult to capture using standard video-based techniques. The highly visual training materials avoid text-heavy instruction, making them more universally appealing. In addition, Kohltfarber explains, such illustrative content is proven to be about 5 times more effective in demonstrating retention than text-based training alone.
Convergence Training's eLearning courses are currently available in English, Spanish, Chinese, and German, and can be accessed offline via an encrypted USB drive or DVD. Web-based versions of the courses are also available via Convergence's proprietary learning management system (LMS), designed specifically for industrial and manufacturing operations.
ABOUT CONVERGENCE TRAINING
Convergence Training, a division of Capstone Technology Corporation, is a leading producer of eLearning media, training management software, and operational efficiency tools for pulp and paper, general industry, manufacturing, and mining.
For more information on Convergence Training's eLearning content, compliance software, and online training services, please visit ConvergenceTraining.com or call 1.800.619.2280.