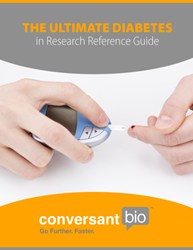 "Our role in addressing this issue is to provide scientists with the highest quality tissue samples to help accelerate cutting-edge biomedical research that yields real solutions for patients." - Luke Doiron, Chief Commercial Officer
Huntsville, AL (PRWEB) August 14, 2013
Conversant Bio, a global leader in supplying the highest quality human tissue and viable cell samples, today announced it is releasing a new E-book to help scientists researching diabetes better understand the nature of the disease, a diabetic patient's lifestyle, the diagnosis process, common treatments and how to procure high-quality samples for drug discovery research efforts. The E-book, The Ultimate Diabetes in Research Reference Guide, is available for free download on the company's website at: http://www.conversantbio.com/ultimate-diabetes-in-research-reference-guide/.
Today, there are 26 million people with diabetes who live in the United States and there are approximately 86 million who are undiagnosed or have pre-diabetes. Because diabetes can be the catalyst of or complicate so many other health issues, there is a strong need to pool resources in order to help improve patient lifestyles for the long-term. For scientists refocusing their R&D efforts to make this happen, it is imperative that they understand how the disease functions in the real world outside of the lab.
In this new E-book, Conversant Bio breaks down the basics on diabetes, highlights current statistics, differentiates between Type I and Type II, walks researchers through the process of diagnosing diabetes, and dives into various treatment methods. The guide also reveals how scientists can go about procuring quality human tissue biospecimens for their research.
"Diabetes is a rapidly growing problem not only in the United States, but worldwide," says Luke Doiron, Chief Commercial Officer, for Conversant Bio. "Our role in addressing this issue is to provide scientists with the highest quality tissue samples to help accelerate cutting-edge biomedical research that yields real solutions for patients."
About Conversant Bio
Conversant Bio provides researchers around the world with hyper-annotated tissue samples in order to conduct informed, cutting edge investigations into many of today's most problematic diseases. With a large prospective collections network of 36 U.S. based clinical sites, and an IRB reviewed chain of custody Quality Control System, Conversant Bio provides you with the highest quality samples on time, and on budget. For additional information about Conversant Bio's services, please visit the company's website at http://www.conversantbio.com/.