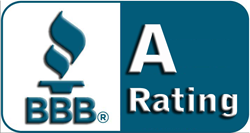 Being a trustworthy business that has a great track record with customers has gone a long way in bringing us to this 'A' rating from the BBB.
(PRWEB) October 03, 2016
Conversational, one of the leading virtual receptionist providers for small businesses, recently received an official 'A' rating from the Better Business Bureau (BBB) in Richmond, VA. The BBB rates companies based on a combination of 13 different factors, including the number of complaints received about a business, the amount of information available about the business online, the industry the company is part of, and more.
Zero complaints have been made about Conversational to the Better Business Bureau so far, a factor that helped the company earn the A rating along with the length of time in business. Conversational has been in business offering their virtual receptionist services to small businesses since 2014.
The Better Business Bureau rates companies to help consumers make smart decisions about who they'll choose to do business with. BBB ratings reflect the organization's level of confidence that a given business will deal and interact ethically with its customers.
The BBB is careful to maintain that their ratings are not guarantees and are intended to be considered in combination with, not in lieu of, a careful appraisal and extensive research of a given company. That's why complaints, licensing validity, advertising methods, and other factors are taken into account when the BBB comes up with a rating for a business like Conversational.
Businesses can be rated on a scale of A+ to F. Occasionally, businesses do not earn a rating due to extenuating circumstances - an ongoing review of a business or insufficient information about the business can be contributing factors to receiving an 'NR' rating.
The ratings the BBB assigns to companies are of incredible importance. In 2015, customers viewed company ratings on the BBB website more than 165 million times, which is 25% more than the number from 2013. Consumers that do extensive research before doing business with a company are among the most likely to become 'loyal customers,' raising the importance of telephone answering service providers like Conversational earning a good rating from the BBB.
The A rating from the BBB is exciting for the Conversational team, who hopes to work up to the esteemed A+ rating in the future.
"Being a trustworthy business that has a great track record with customers has gone a long way in bringing Conversational to this A rating from the BBB. While every business receives complaints at some point, our company has been fortunate to have zero submitted complaints through the BBB. Now, Conversational's website visitors will be able to see the A rating from the BBB when they come to the website. The entire Conversational team is pleased to receive this rating and will continue working to become an A+ rated company!" - Tanya Lamont, CEO, Conversational
Conversational is one of the leading virtual receptionist and telephone answering service providers for small businesses. The Fredericksburg, VA-based company offers monthly virtual receptionist plans that range from 100 minutes per month to 500 minutes per month. Click here to view Conversational's plans and pricing information.