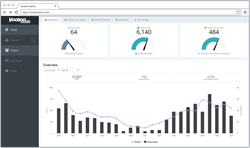 Voodoo Alerts offers customized alerts with detailed notifications, informing the user of everything they need to root out the problem quickly, not simply root around until they stumble upon something broken.
San Jose, California (PRWEB) October 24, 2014
Conversion tracking is an important part of online business. Perhaps the most important. With effective conversion tracking and proper analytics practices, businesses can more efficiently and productively target potential customers, rebrand marketing towards customers who visit the website but are not making purchases, and even develop more productive Adwords campaigns. Each of these marketing strategies can only result as a byproduct of affective analytics, and at the forefront of the analytics field is Voodoo Alerts' new conversion tracking and alerting, now scalable to meet the needs of small businesses.
Even small businesses must maintain a system to track conversions. This obligation can demand a lot of time and effort, especially for small businesses, as they are often times a small group of multitaskers, each performing day to day operations as they arise. The importance of the company's new conversion tracking and alerting package is its ability to continuously monitor a small businesses website without constant attention from a web development team. Voodoo Alerts constantly screens for important aspects of a website like drops in conversions, traffic, and even total website outage. Small business teams simply set goals and wait for the analytics software to inform them of performance.
The Voodoo Alerts small business package includes a surplus of easy to use features, putting effective conversion tracking and alerting at the small business owner's fingertips. Some of the more notable features include 24/7 uptime monitoring, which constantly checks for site outage, custom goal alerting which alerts the web team of conversion performance, and the proprietary notification system, using patented bloodhound analytics to sniff out and alert the user as soon and a problem is noticed on the website.
Users simply set up custom goals to monitor conversions, and allow Voodoo Alerts to do the rest. The service monitors these goals across over 2000 variables, including web browser, browser version, operating system, and much more.
While the competition continually neglects small businesses, catering to larger clients, Voodoo Alerts offers the same powerful conversion tracking utilized by fortune 500 companies, scalable to the size of any company looking to utilize analytics more effectively to increase website function and effectiveness. Competitors only offer very basic features like server pinging, and while this does indeed tell the user whether or not their website is accessible, that is all it tells.
Voodoo Alerts offers much more value with scalable packages that offer unlimited server pings and uptime checks, for free, but also go above and beyond to provide much more for the money. Jon Corell, Founder and CEO of the company says that "If customers are lucky enough to get alerting capability from other conversion monitoring services, those alerts are extremely vague and don't offer any insight to the problem. They simply say 'hey, your site is down, now go find out why'. Voodoo Alerts offers customized alerts with detailed notifications, informing the user of everything they need to root out the problem quickly, not simply root around until they stumble upon something broken."
The Voodoo Alerts small business package consists of the most powerful analytics and conversion tracking tools available on the market today. At the fingertips of any website owner via the Voodoo Alerts Silver Plan are features like service for websites for up to 1 million page views monthly across up to 5 domains. Also included in the Silver Package are powerful features like unlimited automated alerts, server monitoring, SSL Cert monitoring, email notifications, SMS notifications, unlimited custom alerts, and on-page analytics widget. Small businesses can get custom alerts for up to 3 users, allowing alerts to be spread among the whole team. The user interface is both advanced and simple, using an intuitive layout to present complex analytics in a way that is easily understood and less intimidating to new users.
For a limited time, Voodoo Alerts is offering a free website health check for all interested, without commitment or code to install. Simply visit Is My Site Broken and follow directions to receive a free website health check.
Those interested in a free 30 day trial, visit http://www.VoodooAlerts.com. Signup is free, and there is no credit card required to get started.
Voodoo Alerts Contact Info:
San Diego, CA
(858) 569-4202
Info(at)VoodooAlerts(dot)com
http://www.VoodooAlerts.com
Twitter: VoodooAlerts
Facebook: Voodoo-Alerts