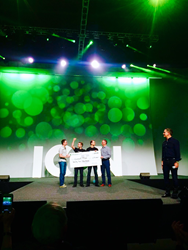 It's an honor to have been selected for this prestigious award by Infusionsoft's founders, team and community.
Phoenix, AZ (PRWEB) March 10, 2016
At ICON, Infusionsoft's 10th Anniversary user conference this past week, ConvertFlow, a Miami-based tech startup, was selected as Champion of the Battle of The Apps competition for 2016.
Battle of The Apps is an annual contest designed to select the best of the best software and web apps from Infusionsoft's partner network and marketplace. ConvertFlow, winner of this year's competition, is an integrated onsite marketing automation platform that shows targeted calls-to-action to leads, prospects and customers interacting with a company's website. It fully syncs with leading CRMs and other marketing tools to automatically deliver relevant, timely and personalized marketing messages.
Of the award, Ethan Denney, Co-Founder and CEO of ConvertFlow, said, "It's an honor to have our software chosen for this prestigious award by Infusionsoft's founders, team and community. The mission at ConvertFlow is to make it faster and easier for marketers to engage website visitors by showing the right calls-to-action, to the right people, at the right time. It's truly a blessing to have been given this opportunity to help even more marketers and business owners enhance their online conversion process, and to be recognized by an industry leader like Infusionsoft."
Jonathan Denney, Co-Founder and CTO, added: "This award really should be given to ConvertFlow's agency partners and users. They provided the development team with excellent feedback and ideas that have helped evolve ConvertFlow into an essential platform that every digital marketer needs. As promised, ConvertFlow has a lot more to come, so make sure to follow its evolution as a product, and company."
ABOUT CONVERTFLOW
ConvertFlow is a Miami-based tech startup that develops onsite marketing automation software that allows marketers to automatically show targeted calls-to-action, to the right website visitors, at the right time. It fully syncs with leading CRMs and marketing tools to deliver relevant marketing messages across multiple platforms. For more information, visit http://convertflow.com