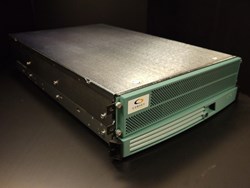 Convey's memcached appliances accelerate a key layer of the storage hierarchy, delivering high throughput even under heavy loads. --Mike Norman, SDSC Director
Richardson, Texas (PRWEB) September 24, 2013
Convey Computer, the leader in hybrid-core computing, today announced the latest addition to their hybrid-core (HC) series. The Convey HC Memcached appliance provides an order of magnitude higher throughput than commodity servers, while maintaining sub-millisecond response time. Additionally, the new Convey HC Memcached server dramatically reduces cost of ownership by slashing power, cooling and maintenance costs.
Memcached is an open source, high-performance, distributed memory caching system used in data centers around the world. Eighty-five percent of top web sites (such as Wikipedia, Flickr, Twitter, YouTube, and Facebook) and approximately fifty percent of the top 5,000 sites use the technology. Additionally, many public and private cloud providers have memcached installed to provide faster access to content that resides in storage systems.
Although this popular caching system works well, today's ever increasing network traffic and rapidly growing datasets are presenting throughput and scalability challenges. In order to keep memcached response times low, organizations are adding more servers. Yet adding more servers causes a different challenge. As the number of servers increase, the number of memcached instances increase, causing a cascading amount of requests. At a certain point, these requests overwhelm the network and actually decrease throughput.(1)
Instead of adding servers, Convey believes that a better approach is to increase the performance of the servers themselves, allowing each server to service more requests. Convey's memcached appliance does just that—dramatically increasing throughput and reducing latency in a single platform.
The San Diego Supercomputer Center (SDSC) at the University of California, San Diego, installed a Convey HC Memcached appliance in July of this year. "Data-enabled science puts extreme pressure on storage systems and intelligent use of tiered storage is an essential strategy to maintain throughput and minimize latency," said SDSC Director, Mike Norman. "Convey's memcached appliances accelerate a key layer of the storage hierarchy, delivering high throughput even under heavy loads."
According to Bruce Toal, CEO of Convey, the selection of a Convey HC Memcached appliance by SDSC is significant. "Accelerated access to data enables better science and faster analytics. As a leader in data-intensive computing, SDSC provides resources, services and expertise to the national research community. We're pleased to see such a prestigious organization use our innovative, hybrid-core technology."
Accelerates Performance
The Convey HC Memcached appliance is based on Convey's proven hybrid-core technology, combining the economies and programmability of industry standard processors with the performance and efficiency of a hardware-based, application-specific design. Performance-critical portions of the memcached server are accelerated directly in hardware—providing seven to ten times the throughput of a contemporary multi-core server while maintaining sub-millisecond response time.
The Convey accelerated memcached appliance is completely transparent to the rest of the cluster; one appliance can be a direct plug-in replacement for multiple conventional memcached commodity servers. The appliance runs standard Linux, supports standard fabric interfaces, and is easy to deploy and incorporate into a typical data center.
Reduces Cost of Ownership
The Convey memcached appliance not only achieves order of magnitude performance increases, it also saves money on infrastructure, power, cooling and maintenance costs. When used as nodes in a cluster, the appliance delivers substantially better performance per watt than conventional servers.
Replacing multiple racks of commodity servers with a single rack of Convey systems reduces OS instances, cabling, floor space, and other infrastructure costs. Total three-year cost of ownership can be reduced by sixty to eighty percent.
About Convey Computer Corporation
Convey breaks power, performance and programmability barriers with the world's first hybrid-core computer—a system that marries the low cost and simple programming model of a commodity system with the performance of a customized hardware architecture. Using Convey hybrid-core systems, customers worldwide in industries such as life sciences, research, big data, and the government/military are enjoying order of magnitude performance increases. http://www.conveycomputer.com/
About SDSC
As an Organized Research Unit of UC San Diego, SDSC is considered a leader in data-intensive computing and cyberinfrastructure, providing resources, services, and expertise to the national research community, including industry and academia. Cyberinfrastructure refers to an accessible, integrated network of computer-based resources and expertise, focused on accelerating scientific inquiry and discovery. SDSC supports hundreds of multidisciplinary programs spanning a wide variety of domains, from earth sciences and biology to astrophysics, bioinformatics, and health IT. With its two newest supercomputer systems, Trestles and Gordon, SDSC is a partner in XSEDE (Extreme Science and Engineering Discovery Environment), the most advanced collection of integrated digital resources and services in the world.
(1) This challenge is known as the "multiget hole". More information can be found at: http://www.conveycomputer.com.
All trademarks are the property of their respective owner. ™ and ® denote registered trademarks in the United States and other countries.