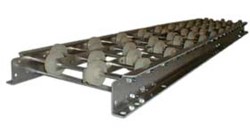 This conveyor is random. That is why customers often miss it. But come check out the white nylon skate wheel conveyor. We promise that you will not regret it
New York, New York (PRWEB) August 23, 2013
Product of the day can be any single item from the A Plus Warehouse collection. For this reason, it is very difficult to choose a product of the day. It takes much thought and consideration. Most of A Plus Warehouse's products of the day are either extremely popular or items the company thinks customers should draw more attention to. Today's product of the day is an item that A Plus Warehouse believes should be pointed out. Many times this products sits, unnoticed by many customers. Hopefully this article will give customers the opportunity to learn about this product. The product being discussed today is the white nylon skate wheel conveyor. According to Ed Stairman, president of A Plus Warehouse, " This conveyor is random. That is why customers often miss it. But come check out the white nylon skate wheel conveyor. We promise that you will not regret it."
As Ed states, this conveyor is a bit "random". This is why the conveyor is in the company's miscellaneous conveyors section. This item is not a typical conveyor. It is a product of its own; it is difficult to place an item such as this one in a group. When ordering any item from the miscellaneous conveyor group, customers should expect an adventure. The miscellaneous section of A Plus Warehouse is where the most interesting products lie. Although this product is very different from other products A Plus Warehouse has to offer, it also has its similarities.
This is a type of skate wheel conveyor. To explain the conveyor system in the simplest terms, under the conveyor section lays gravity and power conveyors. Power conveyors are used when transporting items up hills and gravity is used for most other conveying jobs. This is the most popular kind of conveyor. Underneath the gravity conveyor section falls the roller, skate wheel and expandable conveyor subsections. The skate wheel conveyor is where this miscellaneous conveyor falls. A skate wheel conveyor is typically used to transport cartons and packages. The white nylon skate wheel conveyor does this job but it also a bit extra special. This is why the item is placed in the miscellaneous conveyor line.
This is a very unique looking skate wheel conveyor. The conveyor is depicted in the picture shown to the right. Materials used in this product include white nylon for the wheels and an aluminum frame. This is very unusual. However, having the white nylon prevents the wheels from rusting. This is extremely handy. Customers should consider this item today. For more questions about this or any other product, customers shouldn't hesitate to speak with friendly sales people at A Plus Warehouse.
A Plus Warehouse is the operator of http://www.apluswhs.com and distributes materials handling and storage equipment nationwide and throughout Canada. The sales staff at A Plus Warehouse is available at 800-209-8798. A Plus Warehouse has been in constant operation since 1996.