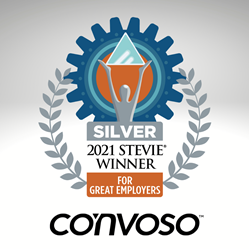 We really strive to make the most of everyone's potential by providing training and resources for all employees. 'Continuous Growth' is one of our core values, and this is how we grow together as a team.– Nima Hakimi, CEO, Convoso
LOS ANGELES (PRWEB) September 10, 2021
Convoso, SaaS innovator in outbound call center solutions, was named the winner of the Silver Stevie® Award for Leadership Development for the sixth annual Stevie Awards for Great Employers.
The Stevie Awards for Great Employers recognize the world's best employers and the human resources professionals, teams, achievements and HR-related products and suppliers who help to create and drive great places to work.
"We're really grateful for this recognition by the Stevie Awards," said Meg Mananian, VP of Operations at Convoso. "Our company is passionate about growth, and that includes growing the success of our customers as well as the professional development of our employees. That's why we initiated a year-long program in 2020 with leadership expert Dr. Brian Harman that involved employees from all levels and departments, and incorporated training and development across multiple areas."
Over 950 nominations from organizations of all sizes in 29 nations were considered in the competition. And, more than 70 professionals worldwide participated in the judging process to select this year's Stevie® Award winners.
"We're honored to be recognized for our company's commitment to developing leaders from within Convoso," said Nima Hakimi, CEO of Convoso. "We really strive to make the most of everyone's potential by providing training and resources for all employees. 'Continuous Growth' is one of our core values, and this is how we grow together as a team."
President of the Stevie® Awards, Maggie Gallagher, said, "In the sixth edition of the Stevie Awards for Great Employers, the judges were impressed by all of the nominees, who, during the crises we've confronted this year and last, continue to dedicate each day to making the lives of their employees and teams better through training, software, work-from-home plans, and more. We look forward to celebrating the Stevie winners' achievements during our November 17 virtual awards ceremony."
Details about the Stevie Awards for Great Employers and the list of 2021 Stevie winners are available at http://www.StevieAwards.com/HR.
About Convoso
Convoso is the industry leader of omnichannel contact center software for sales and lead generation teams. Since 2006, Convoso has continuously innovated its cloud based dialer solution to help outbound call centers drive profitability while supporting compliance with TCPA and other regulations.
About The Stevie Awards
Stevie Awards are conferred in eight programs: the Asia-Pacific Stevie Awards, the German Stevie Awards, the Middle East & North Africa Stevie Awards, The American Business Awards®, The International Business Awards®, the Stevie Awards for Great Employers, the Stevie Awards for Women in Business, and the Stevie Awards for Sales & Customer Service. Stevie Awards competitions receive more than 12,000 entries each year from organizations in more than 70 nations. Honoring organizations of all types and sizes and the people behind them, the Stevies recognize outstanding performances in the workplace worldwide. Learn more about the Stevie Awards at http://www.StevieAwards.com.