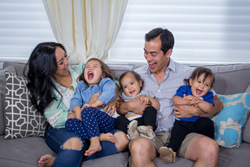 "Convoy of Hope's Children's Feeding Initiative, which feeds nearly 150,000 children in 10 countries, will be the main beneficiary." - Benji Travis
Springfield, MO (PRWEB) August 18, 2015
Judy and Benji Travis, YouTube celebrities who star on ItsJudysLife, have invited Convoy of Hope to be the charity of choice for the pair's 24-hour live broadcast in December known as Dancember. The annual interactive fundraising event will raise awareness and funds this year for the hungry and impoverished children in the Philippines and throughout the world that Convoy of Hope serves.
"Last year Dancember raised more than $200,000 for the fight against human-trafficking and other humanitarian causes," says Benji Travis. "This year, Convoy of Hope's Children's Feeding Initiative, which feeds nearly 150,000 children in 10 countries, will be the main beneficiary."
Travis notes that Dancember is a unique fundraiser that features special guests, audience participation, incentives for giving and dancing in the couple's living room.
"We're honored to partner with Judy and Benji for Dancember," says Kirk Noonan, vice president of Creative Communications for Convoy of Hope. "Being exposed to their extensive YouTube and social media audiences will allow us to continue to improve the lives of children and families throughout the world."
For more information, please visit convoyofhope.org/dancember.
About Convoy of Hope
Convoy of Hope, a faith based organization founded in 1994, has a driving passion to feed the world. With a long history as an early responder in times of natural disasters, Convoy of Hope has been a Four Star Charity as recognized by Charity Navigator for 12 consecutive years. In the last 20 years, Convoy of Hope has served more than 70 million people. For more information, visit convoyofhope.org.
About Judy Travis
Judy Travis, also known as ItsJudyTime to her 4 million+ followers, is YouTube's #1 Millennial Mom (ranked in the top 1% of "Beauty" and "Family and Children's Interests" by YouTube) and considered to be one of the industry's top social media influencers. Her total channel views surpass 600 million, drawing more viewers than most prime time network shows.