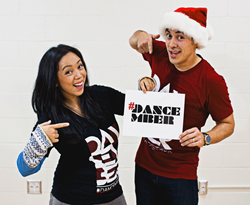 We want to thank everyone that participated in Dancember.
SPRINGFIELD, Mo. (PRWEB) December 22, 2015
YouTube Celebrities, Judy and Benji Travis, hosted their annual "Dancember" campaign over the weekend. Dancember is a unique fundraiser that features special guests, audience participation, incentives for giving and dancing. So far, the event has raised more than $200,000 for Convoy of Hope's Children's Feeding Initiative.
"When Benji said our goal for this year was $200,000, it seemed impossible," Judy says. "But I said, 'let's try it' and we hit it. It's extremely overwhelming."
The 24-hour-live broadcast featured special guests from YouTube including: WahilieTV, Laura in the Kitchen, Mike Tompkins, Desi Perkins, LaToya Forever, TheSchuermanShow, Jackie Aina, GabeBabeTV, Bretman Rock, The LaVigne Life, Nikki Phillippi, Naptural85, Nicola Foti, Nat + Wes (and the Rest!) and xSparkage.
"We want to thank everyone that participated in Dancember," says Kirk Noonan, vice president of Creative Communications for Convoy of Hope. "Especially the Travis' family for their generosity to help us bring hope to kids throughout the world."
The campaign runs through December 31. For more information, please visit convoyofhope.org/dancember.
About Convoy of Hope
Convoy of Hope, a faith based organization founded in 1994, has a driving passion to feed the world. With a long history as an early responder in times of natural disasters, Convoy of Hope has been a Four Star Charity as recognized by Charity Navigator for 12 consecutive years. In the last 20 years, Convoy of Hope has served more than 70 million people. For more information, visit convoyofhope.org.
About Judy Travis
Judy Travis, also known as ItsJudyTime to her 4 million+ followers, is YouTube's #1 Millennial Mom (ranked in the top 1% of "Beauty" and "Family and Children's Interests" by YouTube) and considered to be one of the industry's top social media influencers. Her total channel views surpass 600 million, drawing more viewers than most prime time network shows.