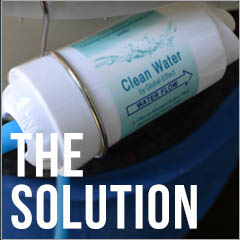 Springfield, MO (PRWEB) March 18, 2014
Convoy of Hope partners with Kind Kart and Filter of Hope in an effort to raise awareness and provide much needed water filters to survivors of Typhoon Haiyan in the Philippines in the days leading up to World Water Day on March 22.
Following Superstorm Sandy in 2012, Kind Kart, a collaboration of three compassionate friends, utilized Amazon's Wedding Registry site to enlist the help of people throughout the United States to procure more than $750,000 worth of relief supplies which were distributed to those in need. Providing resources such as gloves, food, clothing and generators, more than 35,000 donations were delivered in New York and New Jersey.
Convoy of Hope and Kind Kart are also partnering with Filter of Hope, a maker of efficient water filtration units. Each Filter of Hope water filtration unit provides up to 150 gallons of safe drinking water each day. With a campaign goal of 5,000 water filters, these filters will be distributed on the islands of Cebu and Panay in the Philippines.
Learn more about this campaign: http://amzn.to/1dbzmsp.
Each filter purchased through the partnership will be distributed by Convoy of Hope to families in need in the Philippines. The campaign concludes March 23, 2014.
About Convoy of Hope
Convoy of Hope, a faith-based organization founded in 1994, has a driving passion to feed the world. With a long history as an early responder in times of natural disasters, Convoy of Hope has been a Four Star Charity as recognized by Charity Navigator for 11 consecutive years. In the last 20 years, Convoy of Hope has served more than 65 million people. For more information please visit http://www.convoyofhope.org.
About Kind Kart
In the days following Superstorm Sandy, John Heggestuen and Alex Nordenson used an Amazon Wedding Registry to source in-kind donations for disaster relief. Kind Kart provides relief organizations with a simple and effective way to source in-kind donations from donors throughout the United States and abroad. For more information, please visit http://www.kindkart.com.
About Filter Of Hope
Filter of Hope is a 501(c)3 non-profit based out of Panama City Beach, Fla. that works with individuals, organizations, schools, churches, corporations and foundations to provide clean water throughout the world. For more information, please visit http://www.filterofhope.org.