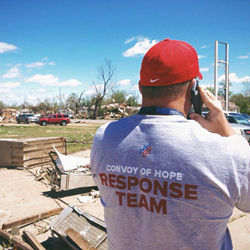 Working with local agencies is vital to the work we do.
SPRINGFIELD, Mo. (PRWEB) December 31, 2015
Convoy of Hope's Disaster Response team is working in storm-ravaged areas and will continue to concentrate much of its work in Texas and Missouri.
Volunteers are working with Convoy of Hope in Texas following the devastating tornadoes that hit over the weekend. Teams are distributing much-needed supplies and conducting debris removal for families.
Trained volunteers throughout Missouri are ready to work alongside Convoy teams once flood waters have receded.
"At the request of the Missouri State Emergency Management team, we are on standby to run point-of-distribution sites for areas that have been affected by historic flooding," says Stacy Lamb, Disaster Services support director for Convoy of Hope. "Jefferson County, including the St. Louis metro area, is at the top of that list with nearly 20,000 residents affected."
Convoy of Hope has already distributed food, water, cleaning supplies, hygiene kits and more to those affected by the storms in Missouri and Texas.
"Working with local agencies like Missouri State Emergency Management and Volunteer Organizations Active in Disasters is vital to the work we do," adds Lamb. "We will continue to communicate with them to best identify how we can respond in the upcoming days."
Follow the response at convoyofhope.org.
About Convoy of Hope
Convoy of Hope, a faith ­based organization founded in 1994, has a driving passion to feed the world. With a long history as an early responder in times of natural disasters, Convoy of Hope has been a Four Star Charity as recognized by Charity Navigator for 12 consecutive years. In the last 20 years, Convoy of Hope has served more than 70 million people. For more information please visit http://www.convoyofhope.org.