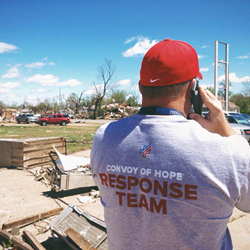 Springfield, Mo. (PRWEB) April 29, 2014
International humanitarian relief organization, Convoy of Hope, has a tractor-trailer full of food, water and supplies arriving in Vilonia, Ark., today and a tractor-trailer is on site in Baxter Springs, Kan.
"The food, water and supplies will be distributed throughout the communities by our Disaster Services team members and with the help of local volunteers," says Chris Dudley, disaster services response director.
According to Dudley, the Convoy of Hope Disaster Services team will continue to identify needs and bring help and hope to those impacted from severe weather in Kansas, Arkansas and elsewhere.
Yesterday more storms and tornadoes struck in Louisiana, Alabama and Mississippi killing at least 11 people and leveling dozens of homes and businesses.
"We are working with our on-the-ground partners in all states impacted by the storms," says Dudley.
Follow the response at http://www.convoyofhope.org.
About Convoy of Hope
Convoy of Hope, a faith ­based organization founded in 1994, has a driving passion to feed the world. With a long history as an early responder in times of natural disasters, Convoy of Hope has been a Four Star Charity as recognized by Charity Navigator for 11 consecutive years. In the last 20 years, Convoy of Hope has served more than 65 million people. For more information please visit http://www.convoyofhope.org.