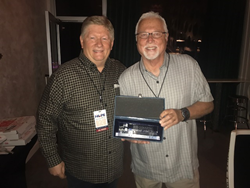 We are honored to have been involved in Night of Hope.
SPRINGFIELD, Mo. (PRWEB) September 28, 2017
Dozens of Christian music artists came together last week for Night of Hope hosted by Air1 Radio. The concert took place at the Verizon Theatre Grand Prairie near Dallas, Texas, and raised more than $500,000 for Convoy of Hope's hurricane relief work.
"What an incredible event! Thank you to KLTY, KCBI, WAY FM, AEG, Facebook, the artists and the community," says Randy Chase, vice president of programming for Air1 Radio. "Together, we all made a difference."
Artists included MercyMe, TobyMac, Casting Crowns, for KING & COUNTRY and many more. The concert was also broadcast live on Convoy of Hope's Facebook page, reaching more than 2.5 million people.
"We are honored to have been involved in Night of Hope," says Hal Donaldson, president of Convoy of Hope. "Thank you to Air1 and everyone who made the event a success."
To date, Convoy of Hope has distributed more than 7 million pounds of relief supplies in response to Hurricanes Harvey and Irma. For more information, visit convoyofhope.org.
About Convoy of Hope
Convoy of Hope, a faith-based organization founded in 1994, has a driving passion to feed the world. With a long history as an early responder in times of natural disasters, Convoy of Hope has been a Four Star Charity as recognized by Charity Navigator for 14 consecutive years. Since 1994, Convoy of Hope has served more than 85 million people. For more information please visit convoyofhope.org.