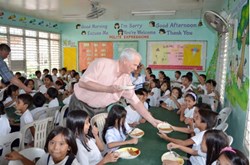 'Convoy of Hope is an extraordinary organization,' says Dr. Wright.
Springfield, MO (PRWEB) September 05, 2013
In August, Convoy of Hope hosted Dr. Frank Wright, President of the National Religious Broadcasters Association, in the Philippines where Convoy of Hope feeds tens of thousands of children regularly through its Children's Feeding Initiative (CFI).
"Convoy of Hope is an extraordinary organization," says Dr. Wright. "Every day the leadership at Convoy of Hope ask the strategic question: How can we fill the gap through creative partnerships, so that more hurting people can find relief, assistance and hope?"
Terri Hasdorff, vice president for Government Affairs for Convoy of Hope and Kary Kingsland, vice president for Global Initiatives, led Wright to feeding centers in Manila and on Cebu, the second most populated island in the Philippines. In both places, the team saw extreme poverty, but also children who are thriving since being enrolled in CFI.
"It was a tremendous honor for us to have Dr. Wright take the time to see our work first-hand in the Philippines," says Hasdorff. "With partners like NRB we will continue to expand our work in the Philippines and throughout the world."
About NRB
NRB has a global reach, serving its members, the communications industry and the public by maintaining access to the airways, opening new markets for broadcast and promoting communications excellence in all media. With headquarters in the Washington, DC metropolitan area and offices on Capitol Hill, NRB maintains a close working relationship with the Federal Communications Commission (FCC), the Congress, the courts, and the Executive Branch, representing the interests of NRB members and the people they serve. All NRB members subscribe to the NRB Statement of Faith and Code of Ethics in their business practices. Learn more at http://www.nrb.org.
About Convoy of Hope
Convoy of Hope, a faith-based organization founded in 1994, has a driving passion to feed the world through community outreaches, children's feeding initiatives, disaster response and partner resourcing. Convoy of Hope has a long history as a first responder in times of natural disasters and has been a Four Star Charity as recognized by Charity Navigator for nine consecutive years. For more information on Convoy of Hope please visit http://www.convoyofhope.org.