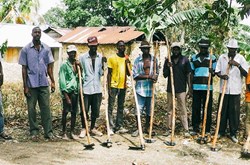 "Land is being redeemed and tremendous potential for commodities exists that can be efficiently grown in the country."
Springfield, Missouri (PRWEB) November 06, 2013
Convoy of Hope's Agricultural Initiative builds a sustainable future for third-world farmers through education and hands-on mentoring. The program, recognized by universities throughout the nation, provides Haitian farmers expertise in agronomy that resulted in a 250 percent increase in yield and an 80 percent increase in income for enrolled farmers.
"In 2011, out of the millions of meals that were fed in Haitian schools every day, none were locally sourced and purchased," says Dr. Jason Streubel, director of agriculture for Convoy of Hope. "In 2012, 600,000 were procured locally. By the end of this year, our goal is to have locally purchased the food that will have provided 1.2 million meals to children in need."
Streubel says the program has been providing workshops for farmers to teach them how to increase their land's output, which has led to exponential monetary and agricultural gains. Streubel was also recently honored by the College of Arts and Sciences at Northwest University for his agricultural work at Convoy of Hope with the Regis Award. The Regius Award recalls the good work of King Alfred the Great in recognizing the recipient's service for the benefit of humanity.
Convoy of Hope partnered with Mission of Hope in Haiti on the initiative, and to-date more than 8,000 pounds of beans and 22,000 pounds of rice were recently purchased from Haitian farmers and packaged into meals.
"It's exciting to see these 'first fruits' from our work with the Haitian farmers," adds Streubel. "Land is being redeemed and tremendous potential for commodities exists that can be efficiently grown in the country."
About Convoy of Hope
Convoy of Hope, a faith-based organization founded in 1994, has a driving passion to feed the world through community outreaches, children's feeding initiatives, disaster response and partner resourcing. Convoy of Hope has a long history as a first responder in times of natural disasters and has been a Four Star Charity as recognized by Charity Navigator for nine consecutive years. For more information on Convoy of Hope, please visit http://www.convoyofhope.org.