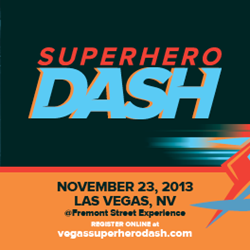 This event is far greater than just a unique race. It's an opportunity to help others.
Las Vegas, Nevada (PRWEB) October 30, 2013
The first-ever Superhero Dash benefiting Convoy of Hope and the Las Vegas City Impact Center, will take place on Saturday, November 23, 2013, in Las Vegas.
"This event is part of our series of run/walk events across the country that support our work to feed hungry children, uplift communities and provide disaster relief aid to disaster survivors," says Hal Donaldson, president and co-founder of Convoy of Hope. "This event is far greater than just a unique race. It's an opportunity to help others."
At each kilometer, participants will be transported to comic worlds where "helping" kids is the order of the day. Each paid participant in the run will receive a shirt, a mask, a running bib, and a first-hand look at where funds are serving. The event will end in Las Vegas' famous Fremont Street Experience area where participants can stay after the run for a finish line celebration that includes food, music and awards.
Registration for this family event is now open. Full event information can be found at: http://www.vegassuperherodash.com/.
Registration is only $20.00 for children ages 7-17 and $40.00 for adults. Children 6 years and under are free.
About Convoy of Hope
Convoy of Hope, a faith-based organization founded in 1994, has a driving passion to feed the world through community outreaches, children's feeding initiatives, disaster response and partner resourcing. Convoy of Hope has a long history as a first responder in times of natural disasters and has been a Four Star Charity as recognized by Charity Navigator for nine consecutive years. For more information on Convoy of Hope please visit http://www.convoyofhope.org.