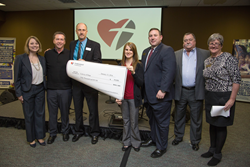 We're honored to receive this grant.
SPRINGFIELD, Mo. (PRWEB) January 15, 2016
Convoy of Hope received a $50,000 grant from the Thrivent Financial Foundation, based in Minneapolis, Minn. The grant supports the organization's work among those in need in the United States.
"We're honored to receive this grant," said Ron Showers, senior director of Community Development for Convoy of Hope. "Their support enables us to help thousands of families in need right here in America."
According to Showers, the initiative Thrivent Financial Foundation supplied the grant for educates, equips and mobilizes churches to strengthen communities by offering financial, social and tangible resources to those in need.
"We are delighted to assist Convoy of Hope through this grant," said Laurie Wilkinson, director of Church Relations at Thrivent Financial. "We trust that this funding will encourage even more people to support the important work being done by them."
About Convoy of Hope
Convoy of Hope, a faith ­based organization founded in 1994, has a driving passion to feed the world. With a long history as an early responder in times of natural disasters, Convoy of Hope has been a Four Star Charity as recognized by Charity Navigator for 12 consecutive years. In the last 20 years, Convoy of Hope has served more than 70 million people. For more information please visit http://www.convoyofhope.org.
About the Thrivent Financial Foundation
The Thrivent Financial Foundation is a private foundation funded by Thrivent Financial. As a 501(c)(3) organization with its own board of trustees, the foundation is organized and operated exclusively for charitable, religious, scientific, literary and educational purposes and makes grants and gifts to 501(c)(3) exempt organizations. The foundation does not provide grants to individuals.
About Thrivent Financial
Thrivent Financial is a financial services organization that helps Christians be wise with money and live generously. As a membership organization, it offers its more than 2 million member-owners a broad range of products, services and guidance from financial representatives nationwide. For more than a century it has helped members make wise money choices that reflect their values while providing them opportunities to demonstrate their generosity where they live, work and worship. For more information, visit Thrivent.com.
Thrivent Financial is the marketing name for Thrivent Financial for Lutherans, Appleton, Wis.
For additional important disclosure information, please visit Thrivent.com/disclosures.