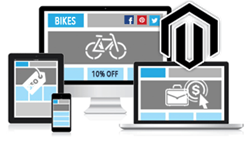 Hiring a professional Chicago Magento developer makes all the difference!
(PRWEB) January 06, 2014
BlitzPublicity.com (Sales Secret LLC), an innovative Chicago Magento development company, recently announced that it will be offering the Magneto Point-of-Sale solution service as a retail management tool. For retailers, this means they will have the ability to take credit cards from anywhere with blazing fast performance numbers; increase customer support effectiveness through viewing shopping carts, finding existing customers in a database, viewing wish lists and previous orders and painlessly sift through accounts to view customer's specific products; pull reports to display what each member of the sales staff has effectively sold and loss of separate integration, installation or complicated settings.
On the customer side of the coin, the Magneto Point-of-Sale initiative means improved engagement through one-on-one connectivity with a particular retailer so their needs can be addressed in real-time. Further, products showcased in a large detailed gallery view assists customers with effectively educating them on product features and benefits. Hiring a professional Chicago Magento developer makes all the difference!
"Through planning, social media, website design and data analysis, we have been changing the face of e-marketing," stated Robert Hadland, BlitzPublicity.com representative. "Now with this Magneto Point-of-Sale system, the game has been taken to an entirely different level – customers and retailers can almost work hand-in-hand for their own goals."
Blitz Publicity offers their prospective customers six ways to "ignite" their sales: Segment their marketing efforts, optimize for mobile engagement, build relationships with customers, localize whenever possible, act on analytics and available metrics and cultivate useful loyalty programs. Through tactics such as email marketing, Magneto E-commerce, website design and even search optimization, Blitz Publicity has been serving their customers' marketing and development needs to increase their sales and profitability.
For more information, visit http://www.blitzpublicity.com/cook-county-illinois/chicago-magento-developer.html or call 888 553-9113.