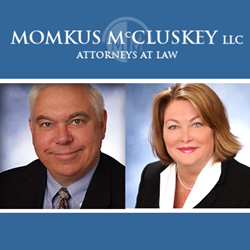 Cook County law firm Momkus McCluskey, LLC will sponsor the upcoming Crain's Chicago Business Physicians' Breakfast on March 11 at the Ritz-Carlton in Chicago.
Chicago, IL (PRWEB) March 05, 2015
The law firm of Momkus McCluskey, LLC is pleased to announce their sponsorship of the upcoming Crain's Chicago Business Physicians' Breakfast on Wednesday, March 11, 2015.
The Physicians' Breakfast will take place from 7:30 to 9:45 a.m. at the Ritz-Carlton located at 160 East Pearson Street, Chicago, IL 60611. The morning's events will include a moderated panel discussion with some of Chicago's top healthcare professionals.
The panel discussion is focused on physicians navigating a transforming healthcare industry. The discussion will examine current issues impacting physicians, including coordinating patient care, changing reimbursement and harnessing electronic health records.
Momkus McCluskey, LLC Partners Edward Momkus and Melinda Malecki will be in attendance. Malecki is the leader of the firm's Healthcare Law Practice which focuses on the legal representation of physicians.
Cook County Business law attorney Edward Momkus is the Founding Member and Managing Partner of Momkus McCluskey, LLC. He obtained his J.D. from Northwestern University School of Law and obtained his B.A. from Elmhurst College. Momkus focuses his legal practice on business law matters including: mergers and acquisitions, joint ventures, succession planning and contracts. He also has extensive experience representing clients with environmental remediation, asset protection planning and real estate matters.
Momkus dedicates a large portion of his time to numerous not-for-profit organizations. He is a Trustee of Elmhurst College and the Elmhurst Memorial Hospital Foundation. He is a past Board Member of the Oak Brook Area Chamber of Commerce.
Cook County Healthcare law attorney Melinda Malecki has over 20 years of experience in the healthcare legal and risk management fields. Malecki 's educational background includes a J.D. from The John Marshall Law School, M.S. from Dominican University and B.A. from Loyola University. Malecki is a member of the American Society for Healthcare Risk Management, the Chicago Bar Association and the Illinois State Bar Association. She also serves on the board of PCC Community Wellness Center in Oak Park, Illinois.
About Momkus McCluskey, LLC:
Momkus McCluskey, LLC represents clients in Cook County and DuPage County with legal matters pertaining to business law, commercial and civil litigation, insurance litigation and coverage, appellate practice, estate planning, family law and healthcare law.
The experienced attorneys at Momkus McCluskey, LLC provide legal counsel to individuals and businesses throughout the Chicagoland area from two convenient office locations in Lisle and Downtown Chicago. Call (630) 434-0400 or fill out the online contact form to schedule an initial consultation.