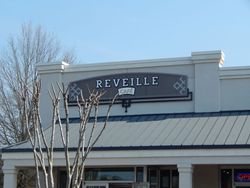 "This project truly encompasses the best of the existing café's elements while adding an individual touch for the Sugar Hill location. Owner Jay McCann continues to bring his passion for food to each of his projects." - Eric Lawrence
Sugar Hill, GA (PRWEB) April 08, 2017
Cook General Contracting was excited to be on hand for the opening of the new Reveille Café in Sugar Hill last month. Our continued work and development in the hospitality/ restaurant space have allowed us to develop partnerships with some of the south's best culinary entrepreneurs. Restaurateur Jay McCann — known for his affiliations with J. Christopher's in the metro Atlanta market — has also been busy developing Reveille Café which opened its fourth location in March.
The Casual Café
Building out commercial spaces for your daily breakfast and lunch setting can seem commonplace, but The Reveille Café – with locations in Marietta, Acworth, and Haynes Bridge- just expanded their operations to Sugar Hill and Cook General was excited to be able to transform the shopping center space into this culinary delight.
Reveille is known for their breakfast and they don't' take the concept lightly. Reveille has recreated the age-old breakfast tradition and combined it with today's favorites and some healthier options as well, including eggs Benedict, strawberry waffles, bacon & eggs, or a bowl of oatmeal with a side of fresh fruit. Now they are bringing back the tradition of slowing down and savoring breakfast to Sugar Hill.
For Cook General, this project brought the ability to encompass both booth seating and bar space into an open eatery that exudes comfort and class. Can Lights brighten up the start to each guest's day with subsequent lighting that doesn't give you the cafeteria feel of long ago provided by long fluorescent lights.
Project Manager Eric Lawrence commented that "this project truly encompasses the best of the existing café's elements while adding an individual touch for the Sugar Hill location. Owner Jay McCann continues to bring his passion for food to each of his projects."
Coffee is not an afterthought at Reveille Café. Their line of gourmet and specialties coffees rival those of boutique coffee shops across the area but do not make the patron have to sacrifice on food. Reveille provides the best of both worlds. The long bar with seating provides the classic diner style or opt for booth style seating as you savor French toast and fruit to get the day started right.
Hues of green, yellow, and blue are mixed throughout the color palate for this restaurant space to convey the feeling that any day can be won with a good start! A barn style sliding door provides the necessary closure for private parties and networking that have become a staple in the metro Atlanta market. Patrons can take advantage of hosting large groups with table space for eating and conversing in a room set off to the side for special guests. Wall graphics, a large chalkboard space, and café reflective art are carefully scattered throughout this space to add elements that speak to areas where Reveille excels — daily specials and delicious coffee.
Stop by this new location in Sugar Hill located at 5885 Cumming Hwy Sugar Hill, GA 30518
Restaurant Construction
We know that each restaurant space we help to create is designed to bring to the life the vision of the restaurateur and complement the food that they passionately want to share with their patrons. Our partnerships with some of the Southeast's best restaurant architects and designers only enhance our ability to create these spaces to fulfill these visions.
Cook General Contracting focuses in several key areas of projects that range from municipal agreements, commercial construction, and design build projects for various industries. For more information visit us online at http://www.cookgeneralcontracting.com.