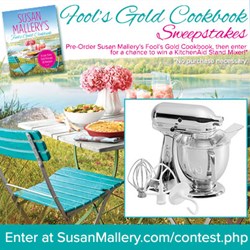 "I know most cookbooks don't come with a love story," Mallery says, "but they should. Love makes everything taste better."
San Francisco, CA (PRWEB) August 12, 2013
Attention home cooks: to celebrate the upcoming release of her first cookbook, Susan Mallery's Fool's Gold Cookbook, New York Times bestselling romance author Susan Mallery has launched a contest for a KitchenAid stand mixer on her website, http://www.SusanMallery.com. The Fool's Gold Cookbook will be released on August 27, but the contest launches on August 12.
"I am unbelievably proud of the Fool's Gold Cookbook," Mallery says. "The recipes are inspired by the fictional town of Fool's Gold, the setting of my series of romance novels. Fool's Gold is a quirky little town in the foothills of the Sierra Nevada mountains of California, so the recipes are what I like to call 'California casual cuisine.' They're organized by season, with subsections of everyday recipes and those for special occasions. They're quick and easy but with a sophisticated flair, so you can impress guests without spending all day in the kitchen. There are lots of full-color pictures, which I adore."
The cookbook also contains one very special surprise for readers – an exclusive Fool's Gold romantic novella about two competing chefs who must work together to develop the Fool's Gold Cookbook. Ana Raquel has known Greg since elementary school, but she never liked him because she felt that he stole her thunder at every turn. Whatever she did, he found a way to one-up her. So when she went to the mayor with the idea of creating a cookbook with recipes from the people of Fool's Gold, Ana Raquel was not thrilled to discover that Greg had the same idea… and that the mayor wanted them to work together on the project.
"I know most cookbooks don't come with a love story," Mallery says, "but they should. Love makes everything taste better."
Readers can enter the contest for the KitchenAid stand mixer on the Contest page at http://www.SusanMallery.com. The contest will accept entries from August 12 through August 31, and the winner of the KitchenAid mixer will be selected at random from all of the qualified entries on September 1.
About Susan Mallery:
With more than 25 million books sold worldwide, New York Times bestselling author Susan Mallery is known for creating characters who feel as real as the folks next door, and for putting them into emotional, often funny situations readers recognize from their own lives. Susan's books have made Booklist's Top 10 Romances list in four out of five consecutive years. RT Book Reviews says, "When it comes to heartfelt contemporary romance, Mallery is in a class by herself." With her popular, ongoing Fool's Gold series, Susan has reached new heights on the bestsellers lists and has won the hearts of countless new fans.
Susan grew up in southern California, moved so many times that her friends stopped writing her address in pen, and now has settled in Seattle with her husband and the most delightfully spoiled little dog who ever lived. Visit Susan online at http://www.SusanMallery.com.