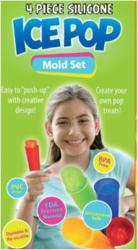 Each ice pop set includes recipes with names like 'Berry Chocolatey & Coconutty', 'Strawberry Lemonade', 'Kiwi Orange Berry' and 'Royal Blueberry'.
Long Island, New York (PRWEB) July 01, 2013
Just in time for the long, hot days of summer, CookHouse Solutions has announced the release of its four-piece Ice Pop mold set, complete with 30 complementary recipes for healthy and delicious warm weather treats.
Available on Amazon.com, CookHouse Solutions' Ice Pop mold set combines brightly colored molds and a user-friendly push-up design that is easy for little hands to manage. Each individual Ice Pop mold is made of BTA-free, FDA grade silicon for durability and easy-to-clean convenience.
CookHouse Solutions Founder Alex Cain says the slim, tapered design of the Ice Pop molds take up minimum freezer space, and make it easier for kids to enjoy every drop with no mess.
"I'm a parent, so I know how important the design is for minimizing mess and maximizing enjoyment," Cain says. "And the best part is you can fill the molds with ingredients that you choose for your family like freshly squeezed juices, yogurt, homemade ice cream or smoothies."
Each CookHouse Solutions Ice Pop mold set comes with a variety of recipes for making delicious frozen treats, and each individual recipe lists nutrition facts including calories, carbohydrates, cholesterol, sodium, fat and protein content.
Recipes with names like "Berry Chocolatey & Coconutty", "Strawberry Lemonade", "Kiwi Orange Berry", "Royal Blueberry" and more make for tantalizing ice pop treats that kids and grownups will love.
Cain recently launched CookHouse Solutions to offer innovative and affordable culinary tools and utensils to customers who love unique kitchen gadgets that make life a little bit easier, and a lot more fun.
Like every CookHouse Solutions item, the four-piece Ice Pop mold set is a premium product that comes with a full one-year guarantee.
"We want CookHouse Solutions to be synonymous with great quality," Cain says.
Customers can keep several sets on hand to make plenty of delicious treats for backyard barbecues, picnics, and trips to the beach. Each individual ice pop mold comes complete with its own lid to keep spills at bay.
For more information, visit the CookHouse Solutions website, call 1-888-732-8285, or email media(at)cookhousesolutions(dot)com.