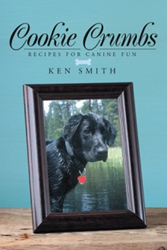 BROOKINGS, Ore. (PRWEB) October 20, 2017
Having recorded daily adventures with his dog all her life, Ken Smith wrote "Cookie Crumbs: Recipes for Canine Fun" (published by LifeRich Publishing) to chronicle her exploits.
In a new novel, Cookie, a female black Labrador retriever, narrates her own life from her perspective. Her life was full of exploring both the great outdoors and the great indoors with her parents. In her 13th year, Cookie "set off on her adventure into the great unknown," some of which she also shares.
"Nearly every person loves dogs, whether they own one or not" Smith says, "and some of our furry friends need our help. … TV commercials by the ASPCA regarding animal neglect and abuse are testament to the relevancy of 'Cookie Crumbs.'"
"Cookie Crumbs"
By Ken Smith
Hardcover | 6 x 9 in | 256 pages | ISBN 9781489713056
Softcover | 6 x 9 in | 256 pages | ISBN 9781489713049
E-Book | 256 pages | ISBN 9781489713032
Available at Amazon and Barnes & Noble
About the Author
Ken Smith enjoyed a 38-year career as a public servant. The last 6 years of it were spent as the director of Animal Control at a small shelter in northern California. When he began there, nearly half of the dogs who entered the shelter were euthanized. Working closely with the local Humane Society and the county Board of Supervisors, he transformed his shelter into an ultra-low-kill, pro-life animal control facility. During his last five years Smith maintained a kill rate of just 1 percent. Now retired, he lives with Laurie, his wife and Cookie's mom, in southern Oregon.
LifeRich Publishing, the strategic publishing partnership of Reader's Digest and Author Solutions, LLC, was created to provide all writers a platform for sharing their stories, recipes, advice and more. LifeRich authors will benefit from a wealth of editorial design, marketing and education resources, specially created by Reader's Digest editors for the enrichment of these LifeSmart individuals. Books can be published in print, ebook or audio formats, with additional distribution to up to 25 million Reader's Digest customers through its online properties. Follow @LifeRichPub on Twitter or "Like" us at facebook.com/LifeRichPublishing for the latest updates.