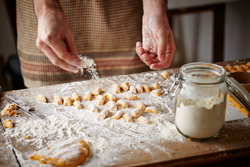 Italian Food and Wine is an attraction available year-round. Every season and region of Italy offers an amazing cultural experience to any traveler
Chicago, IL (PRWEB) January 30, 2015
With food and wine activities becoming more and more popular among travelers, Select Italy (http://selectitaly.com), the web-based boutique travel company, presents its portfolio of food, wine, and cooking classes, showcasing its new services for 2015.
According to a research study by the World Food Travel Association (WFTA), 30% of American travelers choose destinations based on eating opportunities. Cooking classes and foodie experiences are becoming a must in travelers' itineraries and as Italian is the most renowned and popular cuisine spanning the world, it makes the perfect destination for travelers interested in food and wine culture. Experiencing Italian culture through food is possible in each of the 20 regions of Italy, and tourists can attend memorable cooking classes in almost every city, or plan a whole Italian culinary vacation. Select Italy boasts one of the most complete offerings of food and wine services: a la carte cooking classes, food-related excursions, wine tastings, and winery visits. The lessons are hosted by popular chefs, cookbook authors, and enthusiastic Italian foodies, and take place in farmhouse kitchens, wineries, and private apartments. Select Italy's latest additions include:

"Italian Food and Wine is an attraction available year-round. Every season and region of Italy offers an amazing cultural experience to any traveler," says Martina Zuccarello, Director of Food and Wine Lifestyle Representation at Select Italy. "Select Italy has an unique portfolio of food and wine services. We believe that Italian culinary skills are definitely one of the best souvenirs to bring back home."
For further information about Select Italy's food, wine, and cooking classes visit selectitaly.com; or to schedule an interview with Select Italy's Food and Wine Specialist, Martina Zuccarello, send an e-mail to pr(at)selectitaly(dot)com.
About Select Italy
Select Italy® is The Ultimate Source for Travel to Italy® and offers a wide array of superior Italian travel products and services, including customized itineraries, state-of-the-art tours and packages, wedding/honeymoon trips, unique culinary classes, a complete pre-departure ticketing service for museums and musical events, private guided services, yacht charters, transportation, hotel reservations, villa bookings and more. Through a vast network of suppliers and cultural contacts, anything and everything you need for optimum travel to Italy is possible with Select Italy. Based in Chicago with an office in New York and Shanghai and support staff in Italy, the company has expanded its offerings and travel services to the Balkans with the launch of Select Croatia®.