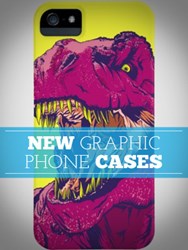 Design By Humans announcing new iphone cases and wall art prints.
chico, ca (PRWEB) October 21, 2013
In an exciting partnership with top producers of new Iphone cases and wall art prints; Design By Humans is now offering the top designs on the new medias. Starting September 30th, customers will have the option to purchase a stylish Design By Humans graphic cell phone case or an art print. The new product line includes cases for all I phone 4/4s and all 5/5s/5c models. There will also be options for the Ipod Touch and Galaxy S4 as well. Each cell phone case will be available with 10 different color options for a completely customizable match in color and design. The graphic cell phone cases are available in a thin or a tough case, for added protection against damage. The thin case will reduce the direct impact on the phone from drops and bumps. While the tough case, includes a rubber layer, and a lip on top to protect the screen from table scratches. The artwork is infused into the case to resist peeling stretches to maintain the integrity of the design, phone and case. Design By Humans cell phone cases are a fusion of protection and style for the next generation of phones.
Thin Design By Humans Phone Case = $35
Tough Design By Humans Phone Case = $40
Fine Art prints are also now also available from our best Design By Humans artworks. The artwork is printed on archival ultra smooth printer paper, for the highest quality in color and detail reproduction printing. The top artworks were selected to be apart of the official Design By Humans Gallery Collection. The sizes will vary from 8" x 10" to 20" x 24" prints. Design By Humans would like to congratulate the best submissions for being chosen for the gallery collective. Customers can now enjoy Design By Humans artworks in the wardrobe, as a phone case and as wall art.
Art Print Prices
8" x 10" = $18
12" x 18" = $24
16" x 20" = $30
20" x 24" = $40
Graphic Phone Cases for the New Iphone 5s and 5c
Design By Humans now has a selection of graphic cell phone cases to choose from. There are two size options available, a Thin cover for light cell phone protection, or the Tough option that includes a thick rubber padding to keep your cellphone safe from bumps and bruises. Each cell phone cover order is custom printed with the design and color cover of the case.
These graphic cell phone cases will be available in the most recent apple Iphones from the Iphone 4 and 4s to the Iphone 5, 5s and the new 5c. There also device case options for the Ipod touch. Design By Humans will also have cases for the Samsung Galaxy S4.
Graphic cell phones are becoming a huge trend amongst young adults. They are fashion forward items to match your cell phone case with your wardrobe. That's why Design By Humans is selling over 100 different cell phone cover designs, so the customer can find artwork that matches every style and personality.
New Gallery Quality Art Prints
Design By Humans art prints are printed with professional level printers on ultra-smooth fine art papers. The result is a crisp, color rich archival print to put in your home or office. All listed sizes are measured to the dimensions of the artwork, and include an extra 1" or 2" border for framing or hanging. There will be 5 size options from 8 x 10, 12 x 16, 16 x 20, 18 x 24. Each artwork will be safely packaged and shipped in an incased tube to insure the print doesn't get damaged during shipping. Each design is choosen for the art print collection as one of the top Design By Humans artworks.
About DesignByHumans.com
Design By Humans hosts t shirt design contests in which winning designs are awarded a minimum of $1000. The contest winning t shirts are set for sale with a discounted rate for 24 hours, then the remaining shirts more over to the Gallery until they are sold out. Successful Design By Humans artists are offered a DBH Collective store where they can upload and sell t shirt designs from a personal store. Please contact darren@designbyhumans.com for more information about being apart of the Design By Humans network. Shop the highest quality in designer t shirts, phone cases and wall art prints.