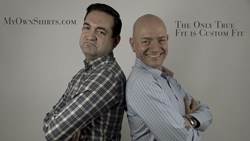 To be able to choose your own fabrics, customize your collars and cuffs, and to see it evolve in 3D as you go, seemed like such a fun way to go customized shopping – and all from the convenience of the home or office
London, UK (PRWEB) December 20, 2013
MyOwnShirts, a startup company that will create perfectly fitting designer shirts for both men and women, recently launched a fundraising campaign on the Indiegogo website. Chris and Matt, the founders of the company, have one key goal in mind: to start a company that revolutionizes the way people buy their shirts.
Unlike dress shirts that are purchased from a department store—and which may not always fit as well as they should—MyOwnShirts lets the customer design his or her own shirts. By using a user-friendly step-by-step design platform, people can create their own shirts from the color to the fabric and the precise measurements. People will be able to select from a wide range of stylish and high-quality fabrics, as well as specific details like the collar and cuffs, pockets, and bottom cut.
After choosing the style they want, customers will enter in their measurements, and MyOwnShirts will do the rest. Every single shirt will be cut and then sewn together by experienced tailors before it is delivered directly to the customer's door—no matter where he or she lives.
Although Chris and Matt are starting off with shirts, they hope to eventually expand their service to include other types of clothing, including cool jackets, jeans, and even shoes.
As Matt explained in an article that accompanies their new business promotion on Indiegogo, he learned first-hand the convenience and luxury of buying tailor made shirts while he was working in Shanghai a few years ago. He enjoyed choosing the fabric and having his personal tailor create a custom-fit shirt, just for him.
"To be able to choose your own fabrics, customize your collars and cuffs, and to see it evolve in 3D as you go, seemed like such a fun way to go customized shopping – and all from the convenience of the home or office," Matt wrote, adding that he thought it would be a great idea for an online business.
After meeting Chris—an entrepreneur, author and online marketing specialist—the two immediately hit it off and were soon talking about opening their own business together. Four months later, MyOwnShirts was launched, and now they just need to raise the additional capital to get their business officially off the ground.
Anybody who would like to learn more about the MyOwnShirts company and the fundraiser is welcome to visit the Indiegogo website at any time; there, they can read about Matt and Chris' business goals as well as how donors will be rewarded for their contributions.
About MyOwnShirts:
MyOwnShirts is a company that will specialize in creating perfectly fitting, custom made stylish designer shirts for their customers. The company is currently raising money on the Indiegogo fundraising website. For more information, please visit http://www.indiegogo.com/projects/myownshirts-designer-shirts-made-to-your-size-every-time.