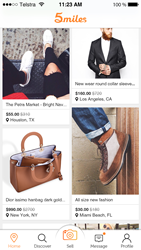 Dallas, TX (PRWEB) December 12, 2014
A new shopping app has made the old cumbersome listing hassles for eBay and Craigslist obsolete. Called "5miles" (http://www.5milesapp.com), the app is focusing on local used items trading and available free for both iPhone and Android.
For Millennials, the smart phone is not only their primary communication device, but a powerful mini-computer. 5miles fills that niche perfectly to create an easy way for buying and selling goods directly between consumers. Classified listings can be quickly posted directly from the phone, and photos added with text and/or audio description to make the process even faster and more personal. Seller and buyer then negotiate the sale directly via in-system messaging, and 5miles is completely free to use with zero listing or any other transaction fees.
"In an era of smartphones, 5miles turns second-hand shopping and selling into a fun, intuitive process," said 5miles CEO Dr. Lu. "Like other popular swipe and chat apps such as Tinder, 5miles is engaging and much easier to sell & buy items than Craigslist, and completely free with no fees unlike eBay, Amazon or other ecommerce sites."
5miles is an especially user-friendly phone shopping app. Login is simple and quick via Facebook. Items are easy to find nearby and by shaking the phone, there's a fun random discovery option. A rating and review system logs feedback and complaints on sellers and buyers for additional security. 5miles offers a wide range of item categories, including women's clothing, women's shoes, men's clothing, men's shoes, handbag, bags, jewelry, watches, health, beauty, kids & baby, pets, home, garden, tools, electronics, phone, computer, automotive, collectibles, art, books, and others.
Complete features include:

Quickly add voice description directly from your phone
Login using Facebook. Easily share item listings with friends.
Easily find items nearby by browsing categories or detailed search
Shake the phone for item discovery!
Chat directly with other users via text when making or receiving an offer on an item
Rating and review system as well as 3rd verification for enhanced security
For more information visit http://www.5milesapp.com or download:
iTunes – http://m.onelink.me/5fc10133
Google Play - http://m.onelink.me/674211f2