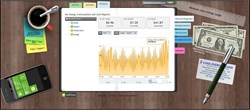 I was able to see my energy usage and do something about it!
Laguna Niguel, CA (PRWEB) October 29, 2013
Cool Energy Island LLC, a preeminent Energy Management and Home & Business Automation provider, announced the launch of its premium cloud-based Energy Management and Networking Service (MyCoolEnergyIsland.com) for homeowners and small/medium-sized businesses. This easy-to-install and easy-to-use system provides everyone with the ability to eliminate the energy they waste and reducing their electric bills up to 40% by utilizing a secure online service and a set of plug-in energy management adapters that have been in use for years in Europe. As soon as the "Master Adapter" is plugged into an outlet and is connected to an internet modem or router, the existing electrical wiring of the home or business is instantaneously transformed into an encrypted high-speed network. By adding additional adapters and plugging them into outlets, the network is extended.
Cool Energy Island's cloud-service provides users with the ability to measure the energy that is consumed by individual appliances or pieces of equipment and gives them the capability to take simple actions to lower the electric bill. By accessing the system using any computer, smartphone, tablet or other smart device, users can remotely turn on and off devices in real time or schedule them to turn on/off based upon individual personal preferences whenever they want.
"Saving money with Energy Management is easy, and MyCoolEnergyIsland.com makes the "Connected Home" and "Connected Business" available to everyone today," according to Norm Weisinger, CEO & President of Cool Energy Island LLC. "Having the ability to turn off electricity to electronics when no one is using them saves me money. I have added additional adapters and have expanded what I do with the system. I even extended my WiFi into my dead spots with one of these adapters. My return on investment started when my first Energy Management adapter was plugged in."
In addition to the PlugLine Energy Management adapters, PlugLink adapters from Asoka USA Corporation are used to provide encrypted high speed communications that is faster and more secure than WiFi, supporting applications such as HD-Internet television (IPTV), secure file sharing & storage, remote printing, high-speed gaming and even cameras for monitoring purposes. Now, any internet-ready device, appliance or piece of equipment can be plugged into any outlet, thus providing the platform for low-cost home and business automation. The system has functions that detects and alerts users, via email or SMS text, when something is wrong or when a critical device or appliance has stopped working. With Cool Energy Island's service, users can leverage built-in parental control features for scheduling and controlling TVs, entertainment systems, game consoles, and even computer internet access. As an example, parents can tell their children they can access the internet from 5:00 - 8:00PM but only for one (1) hour - the system takes care of the rest. Individuals can add cameras or motion sensors inside or outside their home in minutes. People who own 2nd homes can control when the electricity for individual devices / appliances and when heating or air conditioning come on. Children with elderly parents can be connected in real-time and provide remote assistance.
Asoka's adapters make things easy and this technology eliminates the need for expensive cabling and unnecessary equipment that other companies charge hundreds and thousands of dollars for. These adapters provide some of the fastest networking speeds (500 Mbps) in the industry. Because the adapters are designed to be self-installed by the customer, there is no need to schedule a professional installer, no cost for installation, no software to configure and no equipment to purchase, allowing you to be up and running in as little as 10 minutes.
About Cool Energy Island
Cool Energy Island provides next generation Energy Management, advanced automation networking and monitoring solutions for residential and small / medium business customers utilizing PowerLine Communications (PLC) and WiFi technologies. The company provides easy-to-use, easy-to-install, products and services that can significantly reduce anyone's electricity bill by turning off unused / unnecessary electric equipment and electronics, eliminating energy waste. Cool Energy Island wants every consumer's electric bill to be as low as possible and to make sure that no one is ever without affordable electricity, 24x7x365, even during natural disasters. Cool Energy Island is headquartered in Laguna Niguel, CA. Additional information about Cool Energy Island, including its products and services, is available at http://www.CoolEnergyIsland.com and http://www.MyCoolEnergyIsland.com.
About Asoka
Asoka is a pioneer in PowerLine Networking (PLN) technology enabling carriers and systems integrators to provide state-of-the-art digital living services. These include home area networks, energy management services, home monitoring and solar system monitoring. Asoka products have been deployed in over one million locations worldwide and provide fast and flexible installation of high-speed networks by using existing electrical wiring as the network medium. Headquartered in Santa Clara, CA, Asoka's customers include AT&T, Comcast, Swisscom, Rogers, Motorola, FairPoint, CenturyLink and Clearwire. More information about Asoka can be found at http://www.asokatech.com.