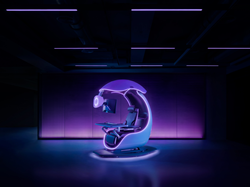 LOS ANGELES (PRWEB) December 05, 2022
For enhancing user's immersive experience, Cooler Master announces that the ORB X, a fully immersive multi-purpose station, is now available for waitlist registration.
Where Luxury Meets Technology
Delicately designed and crafted, the Cooler Master ORB X introduces a whole new level of immersion, comfort, and luxury. With seamless hardware and software integration, ORB X aims to create a premium and private environment for users to immerse in by elevating their visual, audio, and comfort experiences as well as giving a sleek and futuristic appearance that can fit in any occasion such as business, entertainment, or gaming setup.
Enhanced Immersion, Multi-Purpose, Customized Comfort
ORB X creates an atmosphere of immersion by the semi-enclosed design provided with a fully automated motorized shuttle dome, keeping users away from distractions and enabling an uninterrupted privacy mode for them to focus on what truly matters. Users will have the privilege of selecting either one 34-inch monitor or three 27-inch monitors based on their needs. The surround sound speakers directly housed in the station will give users a realistic, accurate, and dynamic audio experience even without the hassles of wearing headphones for long hours.
Designed for gamers and professionals, ORB X is beyond a gaming cockpit and works as a multi-purpose station allowing users to stay productive or simply relax and have fun, fulfilling diversified needs for work, entertainment and gaming use. Besides the immersive experience, customized preferences and long-lasting comfort are also key. A newly designed ergonomic recliner provides an adjustable headrest, lumbar support, and leg rest for customized comfort to ensure that users stay productive and competitive for the long haul. With these multiple adjustments in seating position as well as reclining angle, ORB X makes an ultimate personal experience possible.
By applying new technologies for user experience enhancement, ORB X brings immersion, comfort, and technological luxury to a new level with a mission to perfect and enhance user's immersive experience.
Availability:
ORB X is now available for waitlist registration through Cooler Master CMODX web shop. For more information, please visit here to sign up for an immersive journey!
Product Page: https://www.cmodx.com/orb-X
###
About Cooler Master: Established in 1992, Cooler Master is a performance PC component and peripherals brand with a track record for advancing the industry. From the world's first aluminum PC case to our pioneering thermal technologies, we are committed to breaking technological boundaries and challenging the status quo. Our focus is to create a community for individuals who dare to stand out and embrace their inventive identity. Whether new builders use a PC as medium for self-expression, or hardcore gamers set up their battle stations as a confession of character, we revel in being Wired Different. We are a brand aiming to go above and beyond the build-your-own PC experience by creating cool products for awesome people to build in their own unique way. More information is available at http://www.coolermaster.com and join us on Instagram, Twitter, Discord and Facebook.