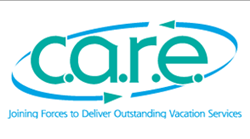 Scottsdale, Arizona (PRWEB) September 10, 2013
The Cooperative Association of Resort Exchanges (C.A.R.E.) is proud to announce its 57th Annual Conference to be held at the Hilton Sonoma Wine Country in beautiful Santa Rosa, California from September 28 – October 1, 2013.
Since this trade association's inception in 1985, C.A.R.E. has dedicated itself to providing its member companies with the best vacation opportunities through the exchange of vacation inventory. While C.A.R.E. itself does not control or own any of the 2,500 vacation properties in its inventory, it provides a much-needed and widely used exchange service to its over one million members who must adhere to a Code of Standards and Ethics.
The four-day conference will be full of information and networking opportunities for all those involved. Each day of the conference, there is an exhibitor marketplace where member companies can showcase their properties. Another highlighted event will be a panel discussion on "Mexican Travel – Dispelling the Myths." There will also be a keynote session by Jim Madrid on "Achieving Unprecedented Record Breaking Results," which will explain ways to achieve ever-higher levels of success.
C.A.R.E. is also excited to be hosting its first-ever Private Casino Night, where C.A.R.E. Squared and sponsor appreciation awards will be presented. Attendees will be able to "gamble" for prizes while enjoying dinner and a cash bar. At the conclusion of the conference, guests will be treated to a Wine Tasting at Annadele Estates. This schedule is subject to change and a final schedule will be posted at the start of the event.
"I'm excited to attend this great event in beautiful Sonoma Wine Country," said online reputation management expert and CEO of Reputation Maxx, Walter Halicki. "As a member of C.A.R.E., I truly appreciate everything that this organization does for the vacation ownership industry."
For more information about C.A.R.E. or the 57th Annual Conference, visit http://www.care-online.org or call 800-636-5646 within the US and Canada or 540-434-4280 for inquiries originating from outside the US and Canada.