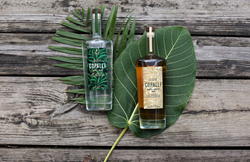 Copalli is crafted with passion and sustainability at its core, made from just three ingredients including heirloom sugar cane, yeast, and filtered canopy water sourced directly from the distillery's farm.
PUNTA GORDA, Belize (PRWEB) October 10, 2018
Co-founders Anya Fernald and Todd Robinson are proud to announce the launch of Copalli Rum, an organic single-estate rum made in the heart of the Southern Belize rainforest. Copalli is crafted with passion and sustainability at its core, made from just three ingredients, including heirloom sugar cane, yeast, and filtered canopy water sourced directly from the distillery's farm.
"Copalli is an incredibly unique spirit," says Copal Tree Distillery co-founder Anya Fernald. She adds, "It's a 100% authentic rum with all aspects of the product hand-crafted and grown in the most ecological way possible. Putting a rum with this kind of sustainable integrity into the market is going to raise the bar, in the best way."
Reflecting the terroir of the tropical Belizean farm where it's produced, Copalli redefines the craft rum category with two grades of product that can be sipped on their own or as an ideal base for classic and modern rum cocktails; current expressions include:
White Rum (84 Proof/42% ABV)
A double distillation of fresh sugarcane juice—crushed within two hours of being cut—the white rum is made with a blend of pot and column distillation with a long resting of the finished product on stainless steel. The smooth end product displays vanilla, coffee bean, and grass on the nose with fresh berries, citrus zest, and cactus notes to finish.
Barrel Rested Rum (88 Proof/44% ABV)
The Barrel Rested Rum is made using double distillation of sugarcane juice, use of exclusively full-bodied copper pot still distillation with French technique. It is aged in American Oak bourbon barrels to create a rich sweet rum displaying cola and leather on the nose with tasting notes including cinnamon, nutmeg, and tobacco.
The distillery is zero-impact and powered by sustainable, regenerative biomass and the process supports full-circle conversion of waste from production into agricultural inputs. The sugarcane used to produce the rum is grown on Copal Tree Farms, so all levels of products can be overseen from start to finish. The founders have spearheaded the philanthropic support of the local community in Southern Belize for over 20 years, through a legacy of rainforest preservation, marine conservation, and support of local education. Copal Tree Distillery supports the local community as the largest employer in Southern Belize, providing over 100 jobs to local residents in a clean and safe working environment. Additionally, the group provides education grants for local girls and boys to continue their education into high school.
Copalli Rum retails for $28.99 (White Rum) and $34.99 (Barrel Rested Rum).
About Anya Fernald
Anya Fernald is the co-founder of Copal Tree Distillery and Belcampo Inc. Belcampo operates 27,000 acres of organic farmland in California and processes its own livestock for sale in its own butcher shops and restaurants. Anya has two decades of entrepreneurship experience in high-quality premium foods. After graduating from Wesleyan University, Anya worked implementing business and marketing plans for small-scale cheesemakers in Sicily for a European Union rural development initiative. She then directed a micro-investment program for the Slow Food Foundation in Northern Italy. After returning to her home state of California in 2006, she built two mission-driven food businesses and founded a small advisory firm that developed over two dozen profitable, values-driven food businesses in its three years of activity. Anya has been recognized as one of the 40 under 40 by Food & Wine, named a Nifty Fifty by The New York Times, appeared in a lengthy profile in The New Yorker's Food Issue in 2014, and served as a regular judge on Iron Chef America on the Food Network for the 2009, 2010, and 2011 seasons. She also appeared as a guest judge on the finale episode of Iron Chef Gauntlet, which premiered in April 2017 and was name as one of Inc. Magazine's "Female Founders 100" in 2018. Anya also co-authored two books for Slow Food's international publishing house as well as her debut cookbook, Home Cooked, that was released in spring 2016 with Ten Speed Press. Anya is an avid consumer and producer of almost everything fermented, and spends her spare time with her young children - daughter, Viola, and son, Theo.
About Todd Robinson
Todd Robinson has trailblazed conservation efforts in Belize with widespread and socially impactful investments since 2005. His charitable foundations have profoundly improved the marine and terrestrial environment as well as the standard of living of the people in Southern Belize through educational grants and philanthropic business developments. Robinson is especially committed to preserving Belize's pristine marine environment with strategic investments in the country's fishing industry including the institution of a catch and release program, the construction and donation of a research station to the University of Belize, and an initiative to benefit The Port of Honduras Marine Reserve that helps local communities harvest its sustainable resources and protect it from exploitation by poachers. Since 2006, Robinson has been the key stakeholder in Copal Tree Lodge in Punta Gorda that is now the largest employer in the Toledo District of Belize outside of the government providing jobs in hospitality and organic farming. The award-winning lodge has helped ignite tourism to Southern Belize among a diverse and robust audience of travelers. In 2016, he built Copal Tree Distillery on the lodge's property and donated it in trust for the benefit of the people in the Toledo District. Profits from the distillery will be delivered as grants for various educational and environmental activities; if the distillery is sold, the proceeds from the sale of the distillery will stay in the trust to provide income in perpetuity. Robinson has extended his investments to fund individual Belizean tourism operators in addition to a young artist coalition that documents environmental and social injustices through documentary filmmaking.
For more information, please visit http://copallirum.com and follow on social media @copallirum
CONTACT: For additional information please contact:
Vanessa Vega at Baltz & Co. / vvega(at)baltzco.com
Annie Black at Baltz & Co. / ablack(at)baltzco.com