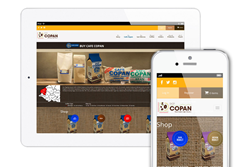 The beginnings of our brands came when a small batch of our best green coffee was ground using a 40-year-old hand crank and roasted on a clay griddle over a wood-burning stove in Honduras' traditional manner.
Houston, Texas (PRWEB) November 08, 2016
Copan Trade, producers of exotic coffees from the Honduran coffee meccas of Santa Rosa de Copan and San Marcos De Ocotepeque, have launched ShopCopan.com to expand the reach of their tempting array of high altitude coffees to online buyers around the world.
The e-commerce site, created by the award-winning web design and programming team at Zephyr Salvo, http://www.zsalvo.com, makes Copan Trade's capacious line of coffee brands available to consumers and retailers as single package or bulk orders, in ground and whole bean varieties. Consumers may use traditional desktop or laptop devices, as well as mobile and tablet devices, to select, order, and arrange delivery of these premium coffees which are packaged and shipped from the US.
"While coffee has been a global favorite for centuries," observes Daniel Dunaway, "a coffee drinker's options were often limited to those beans and blends available where they lived or traveled. Our new website brings the best coffee brands from Honduras to their fans around the world."
Copan Trade's upgrade to the latest ecommerce technology follows an increased awareness of the social commitment required by companies who engage in the sustainable farming practices this crop demands. Copan Trade is steadfast in its commitment to an ecologically-responsible crop yield and the preservation of the social and agricultural balance of the community whose labor makes it possible.
"Our spirit is more important than unfettered growth," offers Dunaway. "We take pride in each order we roast as well as the sustainable farming practices in our farms. We must preserve not only the rainforest and its biodiversity but also our social commitment to our communities."
Shop Copan's remarkable product portfolio, which includes traditional and decaffeinated selections of dark roast, medium roast, and French roast coffees, also features flavored coffees such as Caramel Cream, Cherry, Vanilla, Hazelnut Cream, Highlander Cream, Chocolate Swiss Almond, Pumpkin Spice and Jingle Bell Java. ShopCopan.com accepts payment by credit cards.
About Copan Trade
In the words of company president Sheri Dunaway:
"It has been more than 25 remarkable years since our company was founded by the dreams and vision of the Dunaway family. In 1985, Walter & I, founded Beneficio Maya in a mountain town in western Honduras called Santa Rosa de Copan." They began to purchase locally shade grown coffee, as Walter personally visited the villages and farms in order to buy directly from the growers. "As the company grew, a few years later our own coffee plantations were established as well as our coffee export brokerage, INAGINSA. Even today, Walter still works closely with our coffee producers and sellers, and our personal touch continues to set us apart."
"The beginnings of our brands came when a small batch of our best green coffee was ground using a 40-year-old hand crank and roasted on a clay griddle over a wood-burning stove in Honduras' traditional manner. This batch was given out to family and friends, and the response was incredibly positive. Next, we purchased a German Probat roasters and a professional grinder and began roasting small batches of the finest organic coffee to order."
"Cafe Copan was born in 1996, as a premium coffee brand marketed at high-end grocery stores and touristic places across the country. This success paved the way for the launch of the Cafe San Marcos Supremo brand, with similar success of its predecessor. In early 2000's, Copan Trade, our subsidiary in the United States was created to open a direct gateway to the North American market."