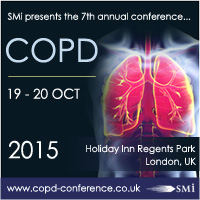 "The program is very diverse but I will look forward to the talks on biomarkers in COPD including the methodologies for sputum testing at point of care" Janssen
London, England (PRWEB UK) 15 September 2015
Some of the most internationally prominent scientists, clinicians and industry leaders will gather next month in London to discuss the latest developments in Chronic Obstructive Pulmonary Disease (COPD), when SMi's 7th annual show on the debilitating respiratory illness returns to London this October.
This year's event will provide a comprehensive overview of current issues and ongoing considerations in COPD relevant to both new and seasoned stakeholders. The two day agenda features over 18 thought provoking presentations from leading pharmaceutical organisations such as Novartis, Verona, Mundipharma, Janssen, Medimmune and Chiesi; an industry spotlight on the relatively unknown condition – ACOS (Asthma COPD Overlap Syndrome); progressive insight into the next generation of inhaled drug delivery; guidance into managing exacerbation's; and strategic direction on conducting effective clinical trials.
In addition to the conference, the COPD event will also run a workshop hosted by Quintiles entitled: Improving probability of success in COPD drug development. Taking place on 21st October, the interactive session will review major topics of development in COPD Drugs. From clinical trial design and setup through to COPD biomarkers and operational issues, the Quintiles team will draw from their extensive experience to offer guidance from lessons learned.
A detailed conference programme is available to download at http://www.copd-conference.co.uk
Some of those who have confirmed attendance include:
Actelion, Aerocrine, Aptar Pharma, AstraZeneca, British Lung Foundation, Carclo Technical Plastics, Chiesi, Elan Corp, GlaxoSmithKline, Glyconics, Imperial College London, Johnson and Johnson, MedImmune, Novartis, Osakidetza, Prosonix, Quintiles, ResMed Sensor Technologies, Respiratory Clinical Trials, Teva UK Ltd, University College London, University Hospital Geneva, University of the Basque Country, Verona Pharma, plus many more…
For those who are interested in attending, there is a limited £500 saving available online.
COPD Conference
19th & 20th October 2015
Holiday Inn Regents Park Hotel, London UK
http://www.copd-conference.co.uk
About SMi Group:
Established since 1993, the SMi Group is a global event-production company that specializes in Business-to-Business Conferences, Workshops, Masterclasses and online Communities. We create and deliver events in the Defence, Security, Energy, Utilities, Finance and Pharmaceutical industries. We pride ourselves on having access to the world's most forward thinking opinion leaders and visionaries, allowing us to bring our communities together to Learn, Engage, Share and Network. More information can be found at http://www.smi-online.co.uk